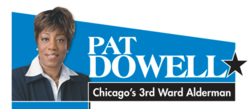 Alderman Dowell's tireless efforts in the community to promote peace and unity, fairness, prosperity, and combat violence, are just some of the things I'm personally grateful for
Chicago, IL (PRWEB) September 24, 2011
For Chicago's 3rd Ward on the lower south side of Chicago, the neighborhood is more than just a location to work or live. It's a place to foster community and unity among the residents; a place where citizens are proud to be a part of. This mission takes the effort and work of many, and one person has aided greatly in the cause to make the 3rd Ward an area on the rise and a model for other parts of Chicago: Alderman Pat Dowell.
Alderman Dowell will be recognized September 24th at a Honorary Toast of Appreciation luncheon hosted and sponsored by the South Loop LifeStorage, located at 2361 South State Street. LifeStorage-Chicago self storage provides home and business storage and office solutions, and one of the many businesses that call the 3rd Ward home. LifeStorage facility managers Shalonda Siler and Janean Smith organized the event and hope the gesture shows the community's gratitude and appreciation for Dowell and all her hard work.
"It's an honor for us to have such an outstanding and committed Alderman that has been supportive to the community and us. Her efforts have always been a push towards improving the 3rd Ward's image to the city," Siler said. "The event is a forum for the public to come forward and show their support and appreciation for the Alderman's commitment, dedication, and heart."
Elected in 2007, Alderman Dowell is no stranger to hard work and duty. She received her B.A. degree in Developmental Psychology from the University of Rochester and a Masters Degree in Social Service Administration from the University of Chicago. Dowell currently serves on the Rules and Ethics, Health, Housing and Real Estate, Landmarks, and Transportation and Public Way Committees.
The Alderman's objective for her constituents is to "to create significant legislation that continues to bring needed resources, jobs, services and infrastructure improvements to our schools, parks, and residents." This includes holding town hall meetings, hosting resource fairs, creating community gardens, holding food, coat, and toy drives, as well as working closely with the Chicago Police Department for community safety. In short, Dowell is working to make the 3rd Ward and the city a better place to work and live.
"Alderman Dowell's tireless efforts in the community to promote peace and unity, fairness, prosperity, and combat violence, are just some of the things I'm personally grateful for," Siler said. "Hopefully the luncheon and plaque presentation will be a small token of not just our appreciation, but the entire 3rd Ward's as well."
To learn more about LifeStorage, its services, or to find a location near you, please visit: http://www.lifestorage.net.
###