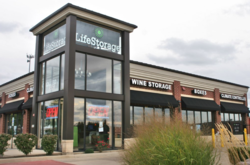 We are happy to try new things and events that build community awareness for our location
Mokena, IL (PRWEB) October 13, 2011
LifeStorage, Chicago self storage provider for home and business, records management and office solutions, is holding a Garage Sale event and Move-In Special at the Mokena location on October 14th and 15th from 10 am to 2 pm. The Garage Sale was requested by current Mokena customers after noticing similar events at many of the 17 Chicagoland LifeStorage locations. Store Managers Kelly Butt and Corey Tolbert were happy to oblige their existing customers and hope the addition of the Move-In Special will create new business.
"Many of our customers have an overflow of items and were looking to do a little fall cleaning. After they read LifeStorage blog and saw some of our sister locations holding garage sales, we received multiple requests to hold our own. We have such supportive customers, we were happy to. It's a chance for renters to sell any items they don't want or need anymore and for shoppers to find some good deals," said Kelly Butt, LifeStorage Mokena Store Manager.
The Move-In Special is a two-day only event coinciding with the Garage Sale, where 10x10 climate-controlled units are available at a flat rate of $22 for the month of October. The following month is rent-free, and come December, the rental fees return to normal. For new customers, it's the perfect time for last-minute storage for the coming winter, or one less excuse to put off cleaning out the basement and garage.
"The Move-In Special is our way of introducing LifeStorage's affordable, top-of-the-line storage solutions to a new audience. The price is pretty hard to beat, and all of us at LifeStorage Mokena feel it will be a success," Tolbert said.
For LifeStorage-Mokena, this is its inaugural event since become a LifeStorage in April of this year. If the Garage Sale event is as successful as planned, it could become an annual occurrence, something that Butt is excited about.
"We are happy to try new things and events that build community awareness for our location. The Garage Sale is the first of hopefully many events we'll hold, and the Move-In Special is the perfect initiation for new customers. With the customers' support , we're working together to make the Mokena location the best it can be!"
LifeStorage Mokena is located at 8531 W 191st Street, Mokena, IL, on 191st Street between Harlem Avenue and LaGrange Road. For more information on the Garage Sale or Move-In Special, please call 815-464-0500.
###