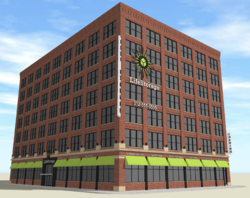 LifeStorage will continue to expand and provide customers with exclusive services and outstanding value. With an eye towards excellence, we feel the sky's the limit
Chicago, IL (PRWEB) September 29, 2011
LifeStorage, Chicago self storage provider for home and business, is excited to announce the purchase of a new property in the Chicago River North area. Adding to its continuing expansion, the building, located at 333 W. Ohio Street, Chicago, IL, will become LifeStorage's eighteenth Chicago-land facility and Chicago's seventh location.
In a move defying market trends, LifeStorage continues to grow, bringing its unique storage solutions to new areas. Chris Barry, co-owner of LifeStorage, is exited about both his company's newest location and its future growth as well.
"LifeStorage is always looking at opportunities to expand when and where it makes sense. We're situated with a healthy market position, an excellent product, and are constantly searching for ways to bring our brand to new customers. Once the facility is renovated and repurposed, we feel area residents and business owners will really see the LifeStorage difference, " says Barry.
The new location is a seven-story loft building that will offer the ultimate upscale solution for not only self-storage, but also business needs. Local residents will now have an easy access to secure, climate-controlled storage in a variety of unit sizes. It's perfect for seasonal and short-term storage, with the flexibility for longer leases. For small business owners, the facility can function as a cost-effective base of operations with LifeStorage's amenities such as: conference space, WiFi, indoor loading, truck docks and, yes, that's right, Starbucks coffee brewed daily. The location will also serve as an ideal solution for commercial storage, providing the space needed for everything from excess inventory for commerce, contractors or pharmaceutical reps to records storage. In addition the building will offer 30 covered parking spaces for rent; amenity that is highly sought after in Chicago.
The expansion is simply another step for LifeStorage to reach new customers and continue the company's momentum in the marketplace. "This location is perfect to reach a wider area, while still providing convenient access. It helps bridge the gap between our other Chicago-area locations too. Our goal is not just industry-leading services and affordability, but also wide-spread availability," said Jean Jodoin, also co-owner of LifeStorage.
"LifeStorage will continue to expand and provide customers with exclusive services and outstanding value. With an eye towards excellence, we feel the sky's the limit," says Jodoin.
Construction on the new location begins shortly with an expected open date of March 1, 2011. LifeStorage is currently taking reservations for interested customers. Space plans will be available online in October 2011 to allow customers to choose the desired unit. Customers can also call 312-222-0055 to make self storage reservations.
To learn more about LifeStorage, its services, or to find a location near you, please visit: http://www.lifestorage.net/.
###