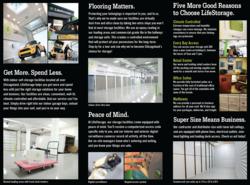 This offer is perfect for the longer-term tenant because their savings are spread out over a six-month period
Chicago, IL (PRWEB) November 11, 2011
LifeStorage, Chicago self storage provider for home and business, records management and office solutions, is offering new customers a self storage special six-month term move-in rate at participating locations. Depending on the location, different sized units are available with the special rates, sometimes totaling up to 25% off regular prices. For customers looking for a longer-term storage solution, it's the perfect opportunity to fulfill their storage needs while saving on the cost.
This is just another way LifeStorage is working to make self storage easy and affordable. Customers that know they'll need storage space for at least six months can take advantage of the savings right from the beginning of their lease. Iwona Lach, Marketing Coordinator for LifeStorage, sees this as an opportunity for attract new clients while providing added value and LifeStorage's unique storage suites.
"This offer is perfect for the longer-term tenant because their savings are spread out over a six-month period. It's a great way for new customers on a tight budget to make their investment even more viable and valuable. Choosing the six-month offer will also help LifeStorage rent the units that we have in abundance of. New customers have access to our climate controlled units monitored with top-of-the-line digital security, all at a discounted price," Lach said. "This promotion is just another way we're giving tenants the opportunity to choose their savings."
LifeStorage has a variety of other promotions for new clients looking for a large range of storage options at affordable prices. Customers can take advantage of a two-months-at-50% new move-in rate on selected units, and renters looking to prepay receive one month rent-free when prepaying for six months, and two months rent-free when prepaying for a year. In addition, all units that aren't eligible for the 50% discount rate still receive $10 off when reserving online. People in the market for storage have an abundance of solutions and chances to save with LifeStorage.
"These à la carte savings are both beneficial for tenants as well as LifeStorage. Our aim is to create offers that cater to many different types of customer so they can pick and choose what suites them best. It also provides us the opportunity to expand our brand and introduce new segments of the community to LifeStorage, while saving folks money," Lach said.
###