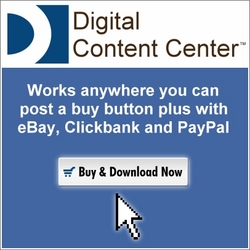 Automated Instant Secure Delivery is a great feature for anyone selling digital downloads on eBay, Clickbank or through PayPal
Knoxville, TN (PRWEB) October 21, 2009
DigitalContentCenter.com, a leading service provider that helps people sell downloads online has introduced it's newest feature, Automated Instant Secure Delivery for eBay, Clickbank and PayPal digital download transactions.
This new feature communicates with eBay, Clickbank and PayPal behind the scenes in real time and upon payment authorization, automatically provides buyers with a confirmation page and email with secure access to the digital downloads that were purchased.
"Automated Instant Secure Delivery is a great feature for anyone selling digital downloads on eBay, Clickbank or through PayPal," explained Art DeVaughn, Director of Programming. "With our solution sellers using eBay, Clickbank or PayPal to sell downloads no longer have to contact buyers manually with download links or worry about link sharing. Sellers can sit back and let our automated system do all of the work."
In addition to the Automated Instant Secure Delivery, DigitalContentCenter.com boasts a robust set of features including PDF Protection, Customizable Sales & Delivery Pages, Copy and Paste Buy Buttons & Audio Player Widgets, a Special Offers Upsell at Checkout Component, a Return Visit Promotions Module and much more. The ability to sell tangible merchandise items like hardbound books, cd's and dvd's is also included.
"Digital Content Center is the easy way to sell downloads and securely deliver them. It works anywhere you can post a buy button." Visit DigitalContentCenter.com for pricing and feature information or call and talk with a professional advisor for FREE at 865-686-5713.
Trademark & Association Notification
Trademarks are the property of their respective owners. We are not affiliated with eBay, Clickbank or PayPal. Our service can be used to instantly and securely deliver digital products from transactions that are processed on these networks.
About DigitalContentCenter.com
DigitalContentCenter.com is a privately held Digital Download Sale and Delivery Service based in Knoxville, Tennessee and owned by Web Services Corporation Inc. The online service allows individuals and companies to sell download online directly to buyers from their own personal websites, blogs, social media pages, eBay and Clickbank. Digital Content Center also offers an in house affiliate program that pays 50% commissions on activations and 20% commissions on renewals.
Contact Information:
DigitalContentCenter.com
865-686-5713
###