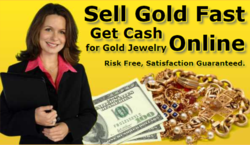 NowGold, located in Orlando, FL, has been buying and selling gold since 1988.
Orlando, FL. (PRWEB) May 02, 2013
The leading online website where people sell their old jewelry and gold suffered from the Google Slap they received. Since their drop in organic search engine page rankings, the webmaster has been working to get the penalty removed from the SellGoldCashForGold.com website. After using the disavow tool Google granted the request, and removed the penalty.
The Panda penalty that Google implemented on Feb. 24, 2011 affected the organic search engine results page rankings of many websites. The Panda penalty is a site wide penalty, and affects the rankings of the entire website. To compound problems the Google Penguin update went live on April 24, 2012, and has had a couple of updates since then. This Google penalty targeted specific keywords, and pages instead of the entire website. Understanding the difference in these 2 Google penalties is key to bringing websites into compliance for Google page 1 rankings.
A comment left by Adam Henige on the "Penguin or Panda? How To Determine Which Google Algorithm Update Impacted Your Website" article that the SearchEngineJournal.com published, shows the affects of the Google penalties and updates on his ecommerce website. "...our ecommerce sites got crushed twice in July. The first hit seems to have come around 7/9 and the next on 7/24. Our money keywords really got hammered but some of our secondary keywords largely remained unchanged. No unnatural link warnings but I know for sure we have far too many manufacturers' descriptions at the product page level. We've began updating tons of products and that's been a help, but our number one money keyword (which the homepage is targeting, and is all unique content) is still tanking. We were up to #12 and looking to crack page one and now we toil between 40-60. Very odd. Anyone else run into problems in early or late July?"
The SellGoldCashForGold.com website experienced the same issue in July, which started their efforts of getting the Google Slap removed. Being a leader in the selling gold online market, receiving the notice that Google had removed the Slap was good news for the gold buyers. Visit SellGoldCashForGold.com to find out how to get cash fast for old gold and jewelry.
About NowGold
NowGold, located in Orlando, FL, has been buying and selling gold since 1988. Lee Heavener, CEO NowGold, currently manages the company helping clients' nationwide sell their gold. The company motto is risk-free, satisfaction guaranteed - safe, secure and insured. A licensed and insured Precious Metals Dealer, they hold a Better Business Bureau A+ rating and are registered as a trusted company with VeriSign. They are rated #1 with the consumer advocate site http://OnlineGoldScam.com.
For more information visit NowGold at
http://www.sellgoldcashforgold.com
http://www.Facebook.com/NowGold
1-800-584-SELL
1-800-584-7355
###