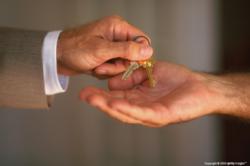 There is no substitute for trust when it comes to the relationship one has with a real estate agent. We trusted Paige completely, because she generously spent her time with us
San Francisco, CA (PRWEB) September 21, 2011
After well over a decade of helping people buy and sell houses, San Francisco Realtor Paige Gienger has learned the ins and outs of the process. She offers 6 tips for homebuyers on what to expect and how to make the process easier.
1) No pain, no gain: Stress, anxiety and uncertainty are undoubtedly emotions buyers feel during the home buying process. The decisions buyers make are impacted by these emotions. Gienger says homebuyers can minimize their pain by using an expert.
"Nothing worth having comes easy—including the American Dream," says Gienger. "But having an expert on your side will give you a big advantage. They will provide you with information and guidance to address your concerns and help you make wise moves."
2) Don't try to time the market: Timing the market is hard to do, because there are just too many variables. Interest rates, home prices, amount of inventory on the market, and world events all change frequently, and have an impact on a home's value.
"You'll drive yourself crazy trying to guess market trends. Buy when the time is right for you. Don't follow the crowd or your friends' timelines; your lifestyle and life's events will point to the right time for your home purchase," Gienger recommends.
3) Know when to compromise: "Unless you build it yourself, there will not be a 'perfect' home that meets all your criteria. Your Realtor can help you understand which amenities may be worth compromising on, and which conditions may impact future value and sellability," says Gienger.
4) Take advantage of the Realtor's expertise: Agents are paid to educate buyers on the market and values, draft the contract and terms, coordinate inspections and contingencies, address title and state code compliances, and handle any surprises that arise. The agent's full-time dedication to the transaction will lead to a successful purchase.
5) Know the neighborhood you plan to buy in: Consider the traffic patterns, crime rates, schools, and access to services people utilize in their daily lives, such as dry cleaners, hardware, coffee shops and grocery stores.
"Unless you're moving right down the street, how will you know the important neighborhood nuances and how they will affect your lifestyle?" asks Gienger. She recommends people ask their Realtor, because he or she has access to many resources about local neighborhoods.
6) The Internet does not replace reality: A home is not the same as an airline seat; buying it online is not going to work. Noise, area construction, and other factors do not carry into carefully staged photos. Only walking the property and home will reveal what is truly there. Buyers can save valuable time and effort by having a full-time agent do the walking for them. Agents also have leads on homes that are not yet open to the public market, listing services or the Internet.
"During a perceived buyer's market, property owners often choose to list and sell homes 'off market,' Gienger notes. "Don't miss out on professional Realtor's insider knowledge and the dream home you never knew was for sale."
Gienger recently helped first-time homebuyers Jaime and Benji purchase a Bernal Heights home. She walked them through the whole process, sharing advice, guidance and expertise.
"There is no substitute for trust when it comes to the relationship one has with a real estate agent. We trusted Paige completely, because she generously spent her time with us, taught us about homes and the market, and guided our decisions intelligently and strategically. Our first experience with buying a house could not have been more positive!" said the happy home buyers.
For more information about buying a home, or any of Paige Gienger's other services, please visit her on the web at http://www.ontherightpaige.com, or call her at 415-336-0205.
About Paige Gienger
Born and raised in Mountain View and Los Altos, San Francisco real estate agent Paige Gienger is a proud life-long resident of the Bay Area and is familiar with all of San Francisco's desirable residential neighborhoods. Gienger is a San Francisco homeowner and 21-year resident with concern and commitment to the community she serves.
Within the Gienger Family, real estate expertise comes naturally. Her mother is a top producing Coldwell Banker Agent. Working in her mother's thriving business, she rapidly acquired inside knowledge and proven actions for sales success.
Gienger's personable and professional style is the winning combination that has earned her a stellar reputation during her twelve years of helping clients buy and sell homes. Gienger's personal philosophy is that customer service and satisfaction always comes first. She ensures an enjoyable real estate experience by incorporating her intimate knowledge of Bay Area communities and attention to detail while navigating through current San Francisco real estate market hurdles.
# # #