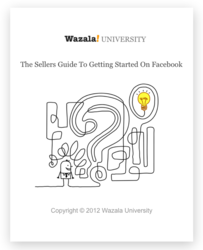 This guide will teach readers how to use Facebook to elevate a brand and maximize reach, but more importantly how to sell directly to fans.
Los Angeles, CA (PRWEB) August 30, 2012
Wazala - http://www.wazala.com - the social commerce and shopping cart application, released the Facebook guide as an in depth tutorial on creating a Facebook business page to expand reach and how to use it to sell on Facebook directly.
The Facebook guide is targeted towards Facebook business users with specific tips for merchants who wish to sell on Facebook directly to fans. Newbies to the Facebook Business Timeline, and those who need the step-by-step details on page settings, customizing the look and feel, using applications and tabs, as well as tips and tricks on expanding reach, fan engagements, advertising, and analyzing Facebook Insights, will find this guide extremely helpful.
Along with this ebook comes a chance to enter and win an iPad3. Contestant are required to be using the Wazala Facebook application to sell within Facebook, and will be judged based on the implementation of the tips outlined in the guide.
"fCommerce is rapidly proving more successful, but not many businesses realize the potential" said Zeena Bushnaq, Managing Director of Wazala. "This guide will teach readers how to use Facebook to elevate a brand and maximize reach, but more importantly how to sell directly to fans. And by entering to win the new iPad, participants will be helping their own business succeed. It's a win, win!"
With plans starting from $0-$30 per month, Wazala can decreases the investment on the store owner substantially. The store includes social share options that turns browsers and customers into advocates, a complete in Facebook checkout process that does not direct the customer away to pay, as well as multiple currency and language support. Add the complete guide to getting started on Facebook, and it becomes a recipe to social commerce success.
The guide is FREE for download on the Wazala Facebook page, and requires a simple "Like" action to the Wazala page to initiate the download. Get it from here and enter to win.
About Wazala Facebook Store
The Facebook store is available for all Wazala accounts free of charge, including the Wazala freemium account. It can be added to any Facebook page, with a simple copy and paste of a unique store number. It does not require a web developer and can be set up in minutes. Sell both shippable products and secure digital content, and audio content can even be streamed to preview before purchase allowing musicians and artists to sell music directly to fans within Facebook. Coupons can be created and shared specifically with Facebook fans, and much more!
About Wazala
Wazala allows a simple build of an online store, and then add the store to multiple websites, blogs and social profiles, all while managing one central location. An easy to use ecommerce solution with no complicated steps or coding knowledge needed to set up. Purchases are made within the site and customers are not directed elsewhere to buy, allowing for a complete shopping experience within a brand pages. Features also include, Google Analytics, smart phone support for better browsing on mobile phones, coupon codes, inventory tracking and fulfillment assistance for both digital and physical goods as well as multiple languages and currency support for international sellers.
Wazala is brought to you by Boxador an internet software incubation and development team located in Los Angeles, California.