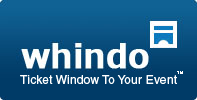 Austin, Texas (PRWEB) April 30, 2012
Whindo, a provider of online event registration software in Austin, Texas, announces the redesign of their website, http://www.whindo.com. Whindo is an online event registration service that enables event organizers to build a promotional event website, send email invitations, create custom event registration forms, securely collect ticket fees, and manage attendees. The newly redesigned website utilizes the latest design techniques and programming languages, including CSS 3 animations, HTML 5, and responsive design.
The site provides an improved user experience, enhanced with an intuitive navigation, beautiful typography, and brand new content. The website makes it easy for potential clients to learn about Whindo's event ticketing solution, and now includes live online chat support. The website includes valuable resources, including video tutorials and the blog. The video tutorials are step-by-step guides on how to leverage all the features available in the service. The Whindo blog keeps visitors updated on the latest feature enhancements to the ticketing platform as well as best practices in creating and publishing an event website.