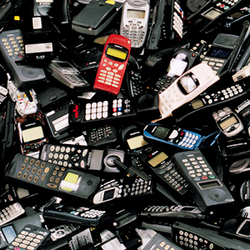 Our program satisfies the needs of the consumer, the retailer and the legislators.
Ocala, FL (PRWEB) October 17, 2007
According to The NPD Group, a leading consumer and retail information company, U.S. consumers purchased about 33 million cell phones in the second quarter of 2007. During the first quarter about 39 million cell phones were sold. Over the next 18 months those cell phones, all 72 million, will be retired.
CTIA - The Wireless Association puts the total number of U.S. cell phone users over 245 million. The industry estimates that the average U.S. wireless user upgrades their old cell phone every 18 months. That means consumers purchase 13 million new cell phones every month.
That's a lot of cell phones. But what makes those numbers even more dramatic is that many of those fancy new cell phones will be replacing older model cell phones - cell phones that work fine but don't have all the bells and whistles of the shiny new models.
So what happens to all those old-model cell phones, anyway? James Mosieur, CEO of RMS Communications Group Inc., hopes they find their way into his mailbox.
RMS is one of the nation's leading cell phone recyclers. The company actually pays cash to people who sell their old cell phones to RMS via their website, http://www.CellForCash.com .
"For almost every new cell phone purchased, one is retired" said Mosieur. "We estimate that nearly $500 million worth of cell phones are collecting dust when they should be collecting interest."
Surveys suggest that less than 10% of U.S. consumers dispose of their old cell phones either by selling them or through other recycling methods. This leaves more than 11 million cell phones to pile up every month in the homes of America.
"Currently our average pay out per cell phone is just over $25" said Mosieur, "when you multiply that by the number of cell phones retired every month, that's a huge number."
Getting cash back isn't the only pay off, there an environmental benefit as well. In the last 12 months the CellForCash.com website has helped RMS divert almost 200 tons of electronic material from the waste stream.
"The numbers say it all - the consumer electronics industry is hot," said Gary Shapiro, the Consumer Electronics Association's president and chief executive officer. According to CEA, wireless handset sales will reach $16 billion in the U.S. next year.
The growing problem has caught the attention of lawmakers across the country. Several states are considering legislation mandating cell phone recycling. California is the first state to pass such a law. As of July 2006 it became unlawful for a retailer to sell a cell phone in the State of California unless they have a no-cost comprehensive recycling program in place.
"CellForCash.com offers a complete consumer solution" said Mosieur. "Our program satisfies the needs of the consumer, the retailer and the legislators."
About CellForCash.com
CellForCash.com pays cash for used cell phones, and makes the process simple by displaying the phones it will buy and the prices it will pay for them right on the web site. It also provides sellers with already-addressed, postage-paid mailing boxes. The site lists over 600 models from 25 manufacturers including Apple, LG, Motorola, Nokia and Samsung. For more information visit the web site at http://www.CellForCash.com
###