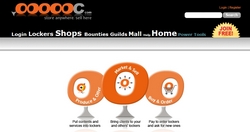 We believe in our vision to offer a new kind of eBay, for people who must sell contents and services
Tel Aviv, Israel (PRWEB) August 19, 2008
oooooc.com, an Israeli-developed website, provides a marketplace for contents and services. The site offers a user-friendly, intuitive platform, with simple means to trade, affiliate and ask for digital goods, as well as interact with colleagues.
OOOOOC.com offers a solution for experts and authors around the globe, to promote themselves as paid professionals on any topic. By opening a free account, one can get a designed branded online shop, with virtual products, within a short time after registration.
The service enables users to ask for information or assistance from professionals and experts, or put their digital content into paid URLs (or "lockers"), add a price-tag and offer it to the public as digital products. It allows one to share and embed widgets on other websites, thus bring thousands of customers, as well as to promote within the marketplace. A locker can then be accessed by whomever the URLs are shared with, after payment or watching ads.
"We believe in our vision to offer a new kind of eBay, for people who must sell contents and services," says founder Dr. Nadav Dafni.
Yossi Shalom, co-founder, admits "With these easy means to monetize your know-how and expertise, new professionals and artists will invest more time and efforts on the Net."
The website targeted for owners of online files on storage services such as divshare.com and box.net, for experts, artists, information technologists, business owners, creators, bloggers and Gurus.
On the public beta period, oooooc.com will use virtual money.
oooooc.com is a self-funded venture by a group of IT professionals who believe in giving new platforms for e-commerce. It is aimed at fulfilling the need of surfers to get help and information, and allowing experts to sell their expertise free of cost.
Media Contacts:
Dr. Nadav Dafni
OOOOOC.com
Tel. 972.50.20.22.101
nadav @ oooooc.com
Background Information - About the Team:
Dr. Nadav Dafni, also developed "Stips", Israel's number 1 experts website, the Hypeshow.com - video search engine and the Ckuik.com - video aggregator.
Yossi Shalom, is also CTO on "Hook", an Israeli social network.
###