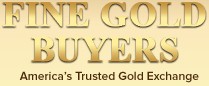 Salamanca, NY (PRWEB) January 13, 2013
Fine Gold Buyers, one of the trusted gold exchanges in America, now comes with three simple steps to provide cash for gold. The gold exchange also guarantees top-dollar prices to the sellers.
According to team of Fine Gold Buyers, the three steps are simple, fast and convenient. The first step involves requesting for a gold pack and the next step is to mail the gold. The sellers are relieved from paying any fee for these two steps. After completion of these two steps, experts at the gold exchange determine the market value of the items and sends cash, which completes the third step.
"Our track record to sell gold is very strong and we are in this business for more than ten years. Our customers know that we are #1 when it comes to offer best value for gold," says the owner of the gold exchange. He adds, "People decide to sell gold only when they need cash, and we understand their requirement. That is why we think it is our responsibility to provide the top-dollar prices against the gold items we get from the sellers."
Fine Gold Buyers backs their claim to provide best value for gold with 100% satisfaction guarantee. One of the representatives associated with the gold exchange says, "We make sure that you get most personal and friendly service, and definitely most honest interactions. There is no doubt that we will help you to get the best prices in the industry. We also promise that the transaction will be straightforward, simple and transparent, so that you can walk away with cash fast."
Fine Gold Buyers also includes a gold payment calculator in their website to help the sellers determine an approximate price for the gold items they are willing to sell. The sellers can also track updated gold prices in their website, which makes it even easier for the sellers to determine the expected cash for gold.
Bill K, from Kansas, MO says, "Fine Gold Buyers know their job very well and I would definitely recommend their services. I received great dollar value for the gold jewelry items that we sold through them. I must also tell that they deliver cash real fast."
The gold exchange buys any item that is made of pure gold. Some of the common items sold through them are gold jewelries, dental gold, gold coins and gold watches.
About the company- Fine Gold Buyers is a Salamanca based gold exchange in New York. They claim to offer fast and best prices for selling gold items. For more details, check their website http://finegoldbuyers.com.