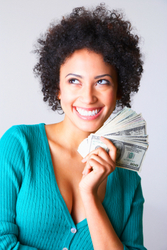 Many gold buying companies claim they offer high payouts, good customer service or quick turnaround on payouts, but at Gold-Cash.com we've taken selling gold to a whole new level
Syosset, NY (PRWEB) August 15, 2009
With the economy continuing to stall, more and more consumers are finding a fast and easy way to make extra cash. Whether it's a class ring gathering dust in an old jewelry box or a set of cuff-links that have not been worn in years, consumers are finding that with gold prices at an all-time high they are able to cash in their unwanted jewelry like never before.
Amongst stiff competition, one company has emerged as a standout in online gold buying "Many gold buying companies claim they offer high payouts, good customer service or quick turnaround on payouts, but at Gold-Cash.com we've taken selling gold to a whole new level" says Claire Simon, President of Gold-Cash.
Gold-Cash.com takes pride in offering the highest payouts in the industry, and guarantees their payouts 110%. As opposed to many other companies, Gold-Cash payout prices are posted daily on their website so consumers know exactly what they will be paid for items. Gold-Cash also provides immediate payment by guaranteeing all packages will be processed within 24 hours and offering multiple ways to get consumers their money.
When recently asked how Gold-Cash.com is different from other online gold buying companies, Simon said that the difference is in reliability and customer service. "We are a family owned company that has been in the jewelry business for 75 years. We have worked hard to build a good reputation. We have four brick and mortar gold buying stores and we have a responsibility to our customer online as well as walk-in customers in our community to give the best value and price while offering top notch service. Our company, as well as our family's reputation, depend on it."
Gold-Cash makes an extra effort to ensure that the customer has an enjoyable experience and offers free shipping, insures all gold packages, and guarantees customer satisfaction or they will ship your gold back. Simon explains she is proud that consumers have been flocking to Gold-Cash.com, and attributes the success to the company's pledge to go the extra mile.
# # #