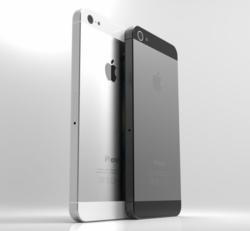 Our competitive smart phone buy back program is a great way to upgrade to the latest iPhone 5 without the risk and hassles of trying to sell your old phone on the open market
Tulsa, OK. (PRWEB) September 21, 2012
Mobile phone carriers such as Sprint, Verizon and AT&T are now offering the iPhone 5 for as little as $199 when consumers add or renew a 2 year contract for service.
The upgrade is still expensive for many of those buyers that are accustomed to free phone offers with contract phone carriers. However, if a consumer already has a smart phone, and if it is in decent shape, it is very likely that they can sell their iPhone or Android phone to Phone Doctors for $199 or more. At that point they are able to get their new iPhone 5 with no out of pocket expense.
How to sell an iPhone or Android device to Phone Doctors.

Call or visit a local AT&T, Sprint or Verizon carrier
Upgrade to the iPhone 5 for as little as $199 and add or renew a contract.
Then the seller can simply mail in the iPhone or Android phone to the Phone Doctors corporate office. Phone Doctors will pay the seller according to their published rates, typically within 24 hours of an acceptance of the offer.
"Our competitive smart phone buy back program is a great way to upgrade to the latest iPhone 5 without the risk and hassles of trying to sell their old phone on the open market." said Alex Iser, CEO of Phone Doctors.
Iser added that if a smart phone is free of major damage and a consumer still has their box and original accessories, it increases the value of their phone. "It's very likely that some people will not only get their iPhone 5 free of any additional expense, but they can actually make a little money as well." said Iser.
For more information on how to sell an iPhone to Phone Doctors, please visit http://PHONEDOCTORS.com/sell/ or call 1-855-234-9483.
ABOUT PHONE DOCTORS
Phone Doctors is a leading source for cellular phone repair and replacement parts in the U.S. Headquartered in Tulsa, Oklahoma, the company provides a wide range of products and services designed to allow consumers to manage do-it-yourself repairs for their own cell phones.