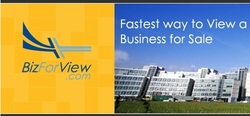 In this economy, it is imperative that both individual business owners and business brokers save time and money -- whether buying or selling a company
Los Angeles, California (PRWEB) September 24, 2007
A new, free resource, http://www.BizforView.com , provides the most secure, cost-effective and visually appealing way for business buyers, sellers and business brokers to connect instantly. The user-friendly Web site features the commercial real estate and business brokerage industry's only online instant non-disclosure agreement for buyers, which once completed, allows detailed information and professional quality virtual tours of available companies to be viewed immediately. The instant interactive video presentations, compatible with both Macs and PCs, provide buyers with up-to-date information on business opportunities, interviews with owners and an inside look at day-to-day operations. For sellers and brokers, the free site provides: listings posted at no charge, the opportunity for professionally produced video tours with voice-over commentary and acts as a virtual assistant by handling the confidentiality agreement process usually required before disclosing business details and location.
"In this economy, it is imperative that both individual business owners and business brokers save time and money -- whether buying or selling a company," said Kamran Blourchi, BizforView.com's CEO. "No other Web site except BizforView.com provides buyers with the information they need in just seconds after accepting our instant online non-disclosure agreement -- thus saving them money and a vast amount of time. The days of faxing the NDA and waiting for the broker to send information are gone -- transparency between the buyer and seller is crucial. Our patented online solution is able to facilitate the business transaction and screen out quality business opportunities faster than if the potential buyer scheduled a meeting with the owner and visited the location in-person. As in any sales transaction -- it's not the amount of leads that are most important -- it is the quality of the leads. This holds true for the buyer, seller and broker in the SMB marketplace -- and BizforView.com reflects this fact."
Any business owner is welcome to post their listing on the new Web site. Categories presently on the free site include: Retail food service; restaurants; grocery markets; liquor stores; services at retail stores; services -- commercial, professional, non-retail; retail sales -- merchandise; online stores and Internet-related businesses; businesses with real estate; wholesale, supplier, storage and transportation; education, health, medical, sports, leisure; vehicle services, gas stations, car washes; and manufacturing and production. Brokers can simultaneously direct multiple buyers to the easy-to-use online videos for each property -- thereby expediting transactions.
For more information, visit http://www.bizforview.com .
# # #