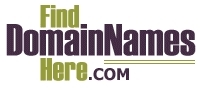 The domain name aftermarket is alive and well, reporting 2009 sales of >$1M for Candy.com, Toys.com and Auction.com. An optimized marketing strategy will attract interested buyers for premium .COM domain names.
Round Rock, TX (PRWEB) December 29, 2009
FindDomainNamesHere.com goes online today to assist owners of premium domain names with the marketing of their domain names for sale or lease. The new service will be promoted professionally through Internet news channels, search engines and the blogosphere to drive interested buyers of premium aftermarket domain names to the Website.
Buyers can use the domain name search, resource library and secure seller contact e-form without registering, remaining anonymous until they are ready to enter into direct buyer-to-seller negotiations to purchase or lease a domain name. Buyers and sellers never pay sales commission fees to use this service.
Domain names available in the current inventory include such valuable business names as iWorkPlace.com, iHelpDesk.com, WebToFax.com, FaxToMe.com, CyberstorePromotion.com and iCompanyStore.
Phase I includes a personal scrolling domain name portfolio widget for sellers. The widget appears on a personal portfolio page accessed by buyers online, and a code snippet can be inserted on outside Web pages to further promote the domain name portfolio. In addition to the initial tools going live today, several planned developments will be available early in 2010, starting with a Favorite Names Tracker, which will allow buyers to keep track of domain names of interest.
A unique benefit to domain name buyers and sellers is the ability to bundle value-added services with the sale of a domain name, which can be the bargaining chip to secure a purchase or sale of a premium domain name. This seller option provides discounted professional Website design, business Website hosting and managed dedicated server lease packages to anyone who pays $1,000 or more for a name listed with FindDomainNamesHere.com.
Anyone who requires more than 5 domain names to be listed for sale at FindDomainNamesHere.com can opt to purchase the Premium service for $149 per year to increase the domain name portfolio size to 100. Customers with a managed dedicated leased server on the Secure Business Web network will get the Premium service at no extra charge.
Serious domain name sellers can purchase a company-branded installation of the FindDomainNamesHere.com Website hosted on the Secure Business Web network to list an unlimited number of domain names or provide an exclusive aftermarket domain name portfolio, complete with secure e-forms, data encryption, SSL, and user-friendly content management system.
The Website is highly secured to protect sensitive member data. Registered member, login and contact form data is encrypted using SSL as it is submitted across the Internet, and all data stored is encrypted in a secure database housed on the SecureBusinessWeb.com network. Payment for premium and optional services is secured through PayPal and consumers are encouraged to use Escrow.com for added protection against fraud when conducting domain name purchase transactions.
The service is a creation of Ms. Steffanie Lynch, an expert in Internet marketing and secure, intuitive Internet business applications, who has provided custom Website applications and secure business Website hosting services since the early 1990's to businesses and non-profit organizations that require highly-functional Websites and security solutions. Ms. Lynch has sold four domain names in recent years for amounts greater than $20,000. Ms. Lynch is not a domain name broker and is only interested in providing a platform for selling a few select names from her portfolio, while sharing resources with other businesses.
Consumers can search the domain name inventory or register at http://FindDomainNamesHere.com to start listing domain names for sale today.
###