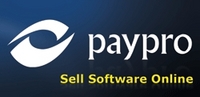 VMProtect is widely used by software developers
Toronto, Canada (Vocus) March 25, 2010
PayPro Global, international eCommerce solution provider for online software sales, announced a new partnership with VMProtect Software, developer of one of the most effective software piracy protection solutions. This partnership expands the licensing options available in PayPro and provides software developers who already use VMProtect with a safe and easy way to license their products.
PayPro's new VMProtect licensing option provides vendors with the automatic generation and verification of serial numbers. By integrating license generation with an eCommerce solution, customers can receive a registration code immediately after their purchase is completed.
"VMProtect is widely used by software developers," said Matthew Silverman, CEO of PayPro Global, "including many of our clients. A partnership between PayPro and VMProtect seemed like a natural synergy between our products. Now our clients have more ammunition to successfully sell software online."
To help businesses sell software globally, PayPro offers a powerful set of capabilities. Its support for a wide range of currencies and payment methods allows consumers to make purchases based on their preferences, which in turn maximizes vendor revenue. And its comprehensive reporting and analysis tools provide a way to conveniently track sales and develop strategies for increasing revenue opportunities.
About PayPro Global:
Founded in 2006, PayPro Global, Inc. develops and hosts an eCommerce solution that allows anyone to easily sell software online. PayPro Global supports more than one hundred currencies, all major credit cards, and a wide variety of payment options. The company also offers software developers state-of-the-art licensing, activation, and anti-piracy protection for their applications. PayPro Global is headquartered in Toronto, Canada, with development centers in Ramat Gan, Israel and Lugansk, Ukraine, and regional offices in Milwaukee, USA, and London, UK.
Web site: http://www.payproglobal.com
About VMProtect Software:
VMProtect Software was founded in 2000 in Yekaterinburg, Russia. The company produces VMProtect, a next generation software piracy protection solution that uses an embedded virtual machine to render code extremely difficult to analyze. As one of the most powerful anti-piracy solutions available, VMProtect is used by many leading software publishers, including NCsoft Corp, CyberLink Corp, DAEMON Tools, DialogueScience Inc., TamoSoft, and Elcomsoft.
Website: http://www.vmpsoft.com
Contact:
Matthew Silverman, CEO
PayPro Global, Inc.
Suite 1117
250 The East Mall
Toronto, Ontario
M9B 6L3
Canada
https://www.payproglobal.com/secure/contact_public_relations.aspx
Phone: +1-646-873-6857 (Canada)
###