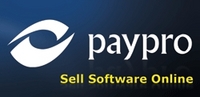 We have a great product
Toronto, Canada (Vocus) March 11, 2010
PayPro Global, international eCommerce solution provider, today announced a new partnership with VMProtect Software. PayPro Global will now manage online sales of VMProtect, one of the world's most effective software piracy protection solutions, helping to accelerate sales and further expand the VMProtect business into the global market.
"We have a great product," said Ivan Permyakov, CEO of VMProtect Software, "but what we were missing was a safe and easy way for customers to purchase it. The PayPro solution is by far the best choice for us to sell software online."
The partnership will provide VMProtect Software with access to PayPro's advanced eCommerce control panel, which contains a continuously increasing number of sales improvement features, including cross-sale pop-ups, accurate tracking of Google Adwords and Google Analytics, relative pricing, and much more. PayPro also provides partners with a comprehensive reporting toolkit, for deep analysis of sales data, a state-of-the-art fraud prevention system, and dedicated sales and marketing consultants and support.
"Our dedication to helping companies sell software online is why VMProtect, and so many other software developers, are turning to PayPro," said Meir Silverman, CEO of PayPro Global. And it is that dedication that is helping to build PayPro's reputation as one of the world's most innovative eCommerce solutions.
About VMProtect Software
VMProtect Software was founded in 2000 in Yekaterinburg, Russia. The company produces VMProtect, a next generation software piracy protection solution that uses an embedded virtual machine to render code extremely difficult to analyze. As one of the most powerful anti-piracy solutions available, VMProtect is used by many leading software publishers, including NCsoft Corp, CyberLink Corp, DAEMON Tools, DialogueScience Inc., and TamoSoft.
Web site: http://vmpsoft.com/
About PayPro Global
Founded in 2006, PayPro Global, Inc. develops and hosts an eCommerce solution that allows anyone to easily sell software online. PayPro Global supports more than one hundred currencies, all major credit cards, and a wide variety of payment options. The company also offers software developers state-of-the-art licensing, activation, and anti-piracy protection for their applications. PayPro Global is headquartered in Toronto, Canada, with development centers in Ramat Gan, Israel and Lugansk, Ukraine, and regional offices in Milwaukee, USA, and London, UK.
Web site: http://www.payproglobal.com
Contact
Matthew Silverman, CEO
PayPro Global, Inc.
Suite 1117
250 The East Mall
Toronto, Ontario
M9B 6L3
Canada
https://www.payproglobal.com/secure/contact_public_relations.aspx
Phone: +1-646-873-6857 (Canada)
###