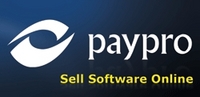 We are very responsive to the needs of the clients and this is the main key to our success.
(Vocus) September 9, 2010
PayPro Global, an international leader in end-to-end eCommerce solutions that offers a wide range of unique and innovative ways to sell software online, today introduced WebMoney as a new payment method for software vendors.
According to the extended agreement between PayPro Global and WebMoney, software vendors will be able to receive payouts in WebMoney. The new option is appealing to software vendors who widely use the WebMoney payment system for making online purchases. Previously, WebMoney was added as a payment option on the order page to give customers greater flexibility in online purchases.
The WebMoney payment system is very popular among countries with lower credit card use, offering an excellent payment alternative for these customers. PayPro Global is constantly monitoring vendors' and shoppers' preferences to ensure that all company clients have a positive experience with PayPro services.
"We are pleased to expand PayPro service offerings and make selling software online with us not only efficient but comfortable for e-businesses around the globe," noted Matthew Silverman, CEO of PayPro Global. "We are very responsive to the needs of the clients and this is the main key to our success."
PayPro advanced technologies aim to simplify today's complicated world of eCommerce. Along with secured online payments processing, the company offers software developers state-of-the-art licensing, activation, and anti-piracy protection for their applications.
About PayPro Global
Founded in 2006, PayPro Global, Inc. develops and hosts an eCommerce solution that allows anyone to easily sell software online. PayPro Global supports more than one hundred currencies, all major credit cards, and a wide variety of payment options including local methods.
PayPro Global is headquartered in Toronto, Canada, with development centers in Ramat Gan, Israel and Lugansk, Ukraine, and regional offices in Milwaukee, USA, and London, UK.
Web site: http://www.payproglobal.com
About WebMoney
WebMoney is a multifunctional payment tool that enables secure and immediate transactions online. Originally targeted primarily at Russian clients, WebMoney services gained world-wide popularity.
WM Transfer Ltd is the owner and administrator of WebMoney Transfer Online Payment System, established in 1998.
Web site: http://www.wmtransfer.com
Contact
Matthew Silverman, CEO
PayPro Global, Inc.
Suite 1117
250 The East Mall
Toronto, Ontario
M9B 6L3
Canada
Phone: +1-646-873-6857 (Canada)
###