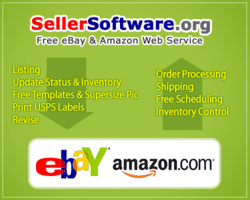 eBay and Amazon sellers can save not only money, but also increase sales if they use this Free Seller Software. The User's Manual we provide is designed to help eBay and Amazon sellers be more successful
Los Angeles, CA (PRWEB) June 15, 2011
SellerSoftware.org, a free eBay and Amazon web service, is now offering sellers the opportunity to use its free online inventory management services with ease, thanks to the introduction of its online User's Manual. The company has the manual ready for both domestic and international sellers to download. It is available for eBay and Amazon sellers with more than 100 positive customer feedback comments.
"eBay and Amazon sellers can save not only money, but also increase sales if they use this Free Seller Software. The User's Manual we provide is designed to help eBay and Amazon sellers be more successful," says Daniel Kim, Team Leader of SellerSoftware.org
The new User's Manual provides a step-by-step guide on how to create an inventory item and manage eBay orders. The User's Manual even walks the seller through the process of updating eBay listings that have already been created on SellerSoftware.org.
The User's Manual also explains how to: change inventory quantity in bulk, set up master profiles, import eBay transactions, process eBay orders, print United States Postal Service labels, automate processes for Amazon user profiles and upload items to Amazon Seller Central. The manual is free to download and simplifies the free inventory management web service that SellerSoftware.org offers all eBay and Amazon sellers.
For more information about SellerSoftware.org's free eBay and Amazon web service, please visit http://sellersoftware.org/index.html
About SellerSoftware.org
SellerSoftware.org is a branch of PhiConnect.com, a company specializing in full enterprise e-commerce solutions for eBay and Amazon sellers with high sales volume. PhiConnect.com also provides an eBay app called 'Online Return Service,' which was selected as the runner-up for the '2010 eBay DSR Rockstar Award.' They have helped many eBay and Amazon sellers reduce the time and labor required to run a successful e-commerce company.
Media Contact:
Daniel Kim
info(at)SellerSoftware(dot)org
213-923-8990
###