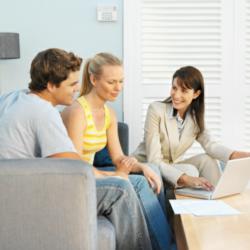 North Hills, CA (PRWEB) January 15, 2013
Selling a home quickly can be a real challenge in today's real estate market. In the North Hills real estate market and all across Los Angeles, despite rising home values and lower than normal home inventories, buyers may take their time about selecting a property for purchase.
Red Blue Realty's team of experts knows that many buyers expect to see a home that's environmentally friendly, has a security system, enhanced landscaping, or a fresh coat of paint. Of course many sellers don't wish to make large capital investments in home improvement prior to selling a property. And some buyers will want one thing, while others will seek another.
The best ways to achieve the result desired - a quick sale - is to institute some suggestions for home improvement that are bound to create buyer interest, and keep home pricing just below full market value.
Red Blue Realty believes that some affordable and simple alterations can make a home not only more attractive to buyers but create the type of property that buyers will want to purchase fast, before someone else snaps it up.
Some of these basic alterations include:

-security systems such as burglar, fire, and hazard detection alarms
-environmentally friendly alterations such as solar panels or programmable thermostats
-new, energy efficient appliances
-technology assisting alterations
In more detail, technology alterations include such simple steps as adding outlets with USB ports in every room, which appeals greatly to younger couples and individuals. Another draw for tech savvy buyers is updating wiring for both the 'Net and flat screen televisions. And this isn't a costly renovation: simply find the appropriate place to install a wireless router.
Upgrading landscaping has been proven to increase home value - in terms of sales price and in terms of desirability to purchasers - between seven and fifteen percent. Sustainable plants, and gardens that don't require constant attention or a great deal of watering are a big draw in North Hills real estate.
Without altering anything substantially, simple cleaning and polishing can be key to making a home attractive enough to draw and close buyers. Steam cleaning carpets and polishing wood floors is inexpensive and creates an environment that's buyer friendly.
And speaking of cleaning, get rid of clutter and junk. Clean out the garage, dispose of old magazines and books.
Red Blue Realty suggests another upgrade that's simple and can close a sale quickly: sellers should make their homes look larger. This attractive illusion is easy, too. Add mirrors, use bright, light paint rather than dark colors, and in a kitchen, add a roll away cart with expandable shelves in lieu of an actual built in island, to utilize and enhance otherwise empty space.
While the recommendation to paint a home to freshen it's appeal is fairly standard, Red Blue Realty's experts agree that choosing colors that are quiet in tone is a major plus, colors such as grey or beige to help create light and space in a home. Be sure and paint exterior windows and doors, as well as inside walls if you're not planning to repaint the entire home.
All upgrading aside, the key recommendation for selling a home quickly remains the tried and true decision to price a home competitively, and under market value.
Website: RedBlueRealty.com
Email: Contact(at)redbluerealty.com
Phone Number: 1-(855) 66-RBREALTY or 1-(855) 667-2732