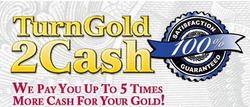 People are becoming very skeptical about how to sell gold jewelry and my advice is that they use someone reputable and who they can trust. There is a lot of hype right now about selling your gold jewelry and receiving cash in the mail. Consumers are being duped and not receiving the full amount of cash for gold
Boca Raton, FL (PRWEB) December 22, 2008
As gold continues to hit high prices, TurnGold2Cash.com is helping people who are asking, "how to sell my gold jewelry" and want to receive the maximum amount of cash for gold online. With the economy facing a downward spiral, many people are seeking alternatives methods to generate funds and selling broken gold jewelry and getting ripped off. This new website features case studies showing what companies are offering when they send in their gold.
TurnGold2Cash.com is based on best practices and high levels of customer service. The two founders have been in the jewelry business for over 30 years. This new company makes selling your gold jewelry simple, fast and convenient by providing you with everything you need to receive cash for gold. There are representatives available to help guide you through the process of this simple process.
"People are becoming very skeptical about how to sell gold jewelry and my advice is that they use someone reputable and who they can trust. There is a lot of hype right now about selling your gold jewelry and receiving cash in the mail. Consumers are being duped and not receiving the full amount of cash for gold," said Neil Koppel of TurnCash2Gold.com.
As many seek alternative ways to accumulate cash, selling gold jewelry has become a popular way to help get through these tough times. "People are asking how to sell my gold jewelry and get the most cash for my gold," said TurnGold2Cash co-founder David Bellman. There is also a way for individuals to earn money for referring a friend to the website.
About TurnGold2Cash.com:
Founded on the principle of a better way, TurnGold2Cash.com is set on offering you top dollar for selling your gold jewelry online. The website offers the same award winning customer service that has excelled the company's previous ventures. This site offers case studies on how much cash for gold the competitors offer and invite their users to test. To see how much cash you can get for your gold, visit http://www.TurnGold2Cash.com.
###