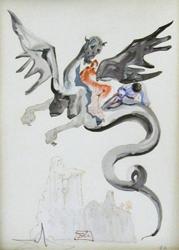 We have new consignors monthly and they're bringing us pieces that quite frankly, you don't find on eBay that often
Eastern Shore, DE (PRWEB) July 17, 2012
Norb and Marie Novocin, owners of Estate Auctions Inc, are proud to list an incredible piece by artist Salvador Dali. As with all of their listings on eBay the opening bid is only 99 cents and this signed print is no exception. The original Woodcut print signed in both the plate and hand signed in pencil by Salvador Dali. The print depicts a dragon with two riders. The title of this piece is "La Divine Comédie, Les Usuriers."
Two etchings by Dali are also listed and due to close the same evening as the hand signed print.
"We have new consignors monthly, and they're bringing us pieces that quite frankly, you don't find on eBay that often. Some of the more recent items we have sold such as the Martha Walter painting would normally be found at a high end live auction but it brought a respectable price on eBay. Our clients have very good taste and pay well for fine pieces in fact we have a wonderful oil on board by Ben Austrian going up in two weeks," says Norb Novocin, owner of Estate Auctions, Inc.
This auction closes Monday, July 23rd at approximately 10:15 PM EST and can be viewed by visiting Estate Auctions Inc. on eBay or updates can be seen on Facebook.
Rare and unusual items are the norm for the Novocin's. They continue to satisfy the taste of a loyal customer base and have even published a book about these experiences, "Getting Sold On Ebay, The Treasure Hunter's Guide To Making Money," which has received stellar reviews and is receiving national attention.
To learn more about the Novocins and Estate Auctions, Inc. visit them on eBay, user ID EstateAuctionsInc or follow them on Twitter @KnowsEbay. For auction previews and updates join them on Facebook. Do you have a valuable antique you would like to sell on eBay? Call for consigning information at 1-800-573-3508. You can find their new book Getting Sold On Ebay, The Treasure Hunter's Guide To Making Money at GettingSoldOnEbay.com or Amazon.com.