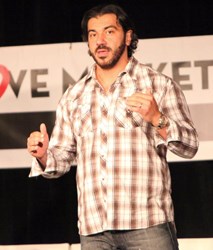 FitPro Magazine has taken my business to another level...
Chino Hills, CA (PRWEB) May 28, 2013
Bedros Keuilian is considered one of the fitness industry's top fitness marketing experts. He got there by years of working as a personal trainer trying to find ways to increase his fitness businesses. After years of trial and error, Keuilian has developed some of the best and most unconventional tools for fitness professionals selling personal training to use. Now with the release of FitPro Magazine, more personal trainers have a better chance to market themselves to their potential and current clients.
Designed to generate more online leads, traffic and clients, FitPro Magazine is an online digital fitness and health magazine that personal trainers can use to private label and showcase on their fitness websites or blogs.
Keuilian explains how FitPro Magazine came about, "most personal trainers and fitness business owners don't have the time to find new ways to market themselves and their businesses. They're simply too busy working with their clients. FitPro Magazine automates a trainer's entire online and email marketing campaign."
FitPro Magazine, available now at PTPower.com, helps personal trainers to build their own fitness magazine and instantly drive traffic to their fitness business' website to generate leads and increase client retention. The customizable online magazine integrates into any personal trainer's fitness website to deliver fitness related articles and content.
"FitPro Magazine has taken my business to another level yet again! Not only does it allow me to keep front-of-mind awareness for all my clients by giving them amazing cutting edge content and keeping them coming back for more, but my clients are constantly raving about how cool having my own magazine is" says personal trainer Leanne Ellington, from NotYourAverageBootCamp.com.
Keuilian's FitPro Magazine delivers 16 new fitness, health, life, and diet articles each month along with healthy recipes and exercise demonstrations to help personal trainers grow their fitness businesses. Every article in a personal trainer's FitPro Magazine has a "share" feature that allows readers to post the article on their social media site, which helps to build credibility to the personal trainer. There is also an email to a friend option.
A full fitness marketing system, FitPro Magazine gives personal trainers and fitness entrepreneurs selling personal training everything they need to market to a broader audience.
About PTPower
To find out more about Bedros Keuilian, his company PTPower.com and the fitness boot camp franchise, Fit Body Boot Camp, contact Bedros Keuilian at (800) 261-0208. Alternatively, you may use the contact form at http://ptpower.com/contact-me/ or send an email to Bedros Keuilian at support(at)keuilian(dot)com.