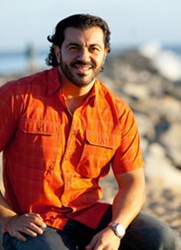 This system is developed to take your existing leads and prospects and convert them into loyal paying clients.
Chino Hills, CA (PRWEB) May 14, 2013
Bedros Keuilian, who has been in the fitness industry over 15 years and counting, understands that selling personal training can be intimidating to those who are just starting out.
The now CEO and founder of the highly acclaimed PTPower.com (a website that offers great advice on how to start a personal training business) has introduced a collection of some of his best client getting secrets to help personal trainers who need help closing sales for their fitness business.
How to Close 9 Out of 10 Clients is out now, and available at PTPower.com. "Close Clients is a bona-fide proven sales system for fitness professionals of all levels" says Keuilian. He adds "It's not a marketing system that requires additional expenses, cost, time or effort. This system is developed to take your existing leads and prospects and convert them into loyal paying clients. It completely takes the guesswork out of selling."
Keuilian's How to Close 9 Out of 10 Clients is a comprehensive program complete with everything a fitness professional needs when it comes to closing clients. This closing course covers some of Keuilian's top-notch, best working selling and closing techniques that has helped personal trainers from around the world gain financial freedom.
"I used the How to Close 9 Out of 10 Clients system and continue to use it to help me better understand how to overcome potential client objections, even before they are raised, and demonstrate value throughout my sales presentation in order to close 90% of my sales. I now have 33 clients more than the 5 that I started with! I am excited to see what will happen as I continue to use this program" says Megan Kruger, a successful personal trainer and owner a fitness boot camp.
The Close Clients system was developed to take existing prospects and convert more of them into loyal, paying clients. The program accomplishes this by teaching fitness professionals how to close bigger session packages and retain clients for longer periods, and even includes demonstrations of a good and bad sale.
Keuilian's proven sales system provides the tools personal trainers need to perfect the sale process and showcases how selling personal training is easier to accomplish when you have the right systems in place.
To find out more about Bedros Keuilian, his company PTPower.com and the Fitness Boot Camp Franchise Fit Body Boot Camp, contact Bedros Keuilian at (800) 261-0208. Alternatively you may use the contact form at http://ptpower.com/contact-me/ or send an email to Bedros Keuilian at support(at)keuilian(dot)com.