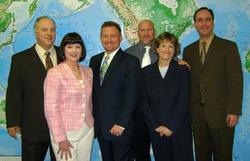 We understand that the secondary market has been highly inefficient in the past. Our goal is to provide real solutions that create tangible results for timeshare owners and developers
Dover, NH, (PRWEB) January 5, 2009
With an $8.5 million injection of capital, Sell My Timeshare NOW launches a new growth and expansion plan designed to better serve the timeshare resale needs of both consumers and the timeshare development industry. After extensive diligence, Edison Venture Fund has become Sell My Timeshare NOW's sole institutional investor, continuing Edison's investment commitment to high-growth, entrepreneurial, technology companies.
Sell My Timeshare NOW and its family of websites provide advertising tools and marketing services to assist owners with timeshare resale and rental options. In addition to its by-owner advertising platform, the company also offers success-based services through its brokerage arm, Timeshare Broker Services. The company has experienced dramatic growth so far in 2008 with more than 23 million visitors and over $1 million in daily offers to buy or rent timeshare, landing it as one of the fastest growing privately held companies according to Inc.com. Despite the economic downturn, Sell My Timeshare NOW has experienced a 90 percent increase in the number of offers to rent or buy timeshare advertised through its website and a 74 percent increase in the dollar amount of those offers over 2007.
Jason Tremblay and co-founders Mark Eldridge and Cindy Gonzalez started Sell My Timeshare NOW in 2003 as a home-based business with three employees. Through cutting-edge internet search technologies and excellent customer service, the company has grown to over 150 employees with offices in Dover, NH, and Orlando and Tampa, FL.
Jason Tremblay, company's CEO and founder, explains, "Sell My Timeshare NOW is well on its way to become the de-facto destination for the vacation ownership secondary market. With Edison as our investment partner, we can expand our innovative, business-to-business solutions in ways that will provide proactive, developer-friendly solutions."
Michael Kopelman, Principal at Edison Venture Fund, noted, "Sell My Timeshare NOW's search engine leadership drives massive exposure to sellers. Buyers now have the ability to purchase timeshare intervals online at attractive discounts to retail prices."
Tremblay explained, "Sell My Timeshare NOW is already the global leader in online timeshare advertising and the number one resale solution for consumers today." He elaborated, saying, "Edison's due diligence recognized the utility of our platforms; their investment enables Sell My Timeshare NOW to expand, offering timeshare resale and rental solutions for both developers and owners."
"We understand that the secondary market has been highly inefficient in the past. Our goal is to provide real solutions that create tangible results for timeshare owners and developers," said Tremblay.
About Sell My Timeshare NOW
The company is the recognized global leader in online timeshare resale and rental marketing with over $400 million in offers through its websites in 2008. The company's flagship website property, http://www.sellmytimesharenow.com, provides internet advertising and marketing solutions for timeshare owners who seek to sell timeshare or rent timeshare. In addition, the company also offers success-based services through its brokerage arm, Timeshare Broker Services. Headquartered in Dover, NH with offices in Orlando, FL and Tampa, FL, the company has over 150 employees and was recently recognized as one of the fastest-growing privately held companies in the country by Inc.com.
About Edison Venture Fund
Established in 1986, Edison partners with entrepreneurs, service providers and other financing sources to build successful companies. Edison provides capital and value-added services to expansion stage ($5 to 20 million revenue), information technology businesses. Initial investments range from $5 to 8 million. Edison typically serves as a sole or lead investor in financings up to $10 million. In addition to providing expansion capital, Edison funds management buyouts, recapitalizations, spinouts and secondary stock purchases.
Edison's investment professionals are based in Lawrenceville, NJ, McLean, VA, New York, NY, Needham, MA, and West Chester, PA. Industry specialties include application software, communications, financial technology, interactive marketing, healthcare, & pharmaceutical IT. Edison's successes include Best Software, Dendrite, E-Transport, Gain Capital, Liberty Tax, VirtualEdge, Visual Networks, Vocus and many other information technology leaders, which have a combined market value exceeding $5 billion. Edison currently has $550 million under management and is actively making new investments. http://www.edisonventure.com
Contact:
Steve Luba
Director of Communications, Sell My Timeshare NOW
603-516-0649
steveluba(at)sellmytimesharenow.com
Tricia Bradley
Marketing Manager, Edison Venture Fund
609-873-9224
tricia(at)edisonventure.com
# # #