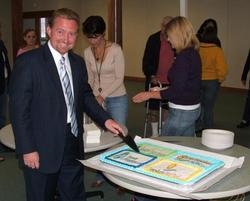 When prospective timeshare buyers and renters search online for timeshares, they consistently find Sell My Timeshare NOW at or near the top of the search results
Dover, NH (PRWEB) September 24, 2008
Sell My Timeshare NOW LLC is a genuine good-news business success story, refreshing to hear in this day of corporate crashes and business bailouts. Celebrating their 5-year anniversary this month, the timeshare resales and timeshare rental advertising company has skyrocketed from a home based business with three employees to an online timeshare advertising leader, currently employing 140 people. Sell My Timeshare NOW's website, http://www.sellmytimesharenow.com, sees an average of more than 76,000 visitors daily.
"Happy Birthday Sell My Timeshare NOW. Timeshare buyers and renters, recognizing the opportunities of timeshare resales, have helped our company grow at a record setting pace in just five years," says Jason Tremblay, the company's co-founder and CEO. Tremblay, who is quick to talk about transparency in all of Sell My Timeshare NOW's business practices, is just as plain spoken about what has lead to the company's 520.9 percent growth rate or the fact that they now receive an average of over $1 million daily in offers to buy or rent timeshares.
"When prospective timeshare buyers and renters search online for timeshares, they consistently find Sell My Timeshare NOW at or near the top of the search results," explains Tremblay. The company, whose revenues are up 46 percent over this time last year, offers an affordable, high-visibility venue for timeshare owners to advertise their timeshares for sale or rent to a global marketplace. They maintain their high-ranking position in Internet searches by staying on top of -- and often ahead of -- best practices for successful search engine optimization.
Sell My Timeshare NOW, recognized on the prestigious 2008 Inc. 5000 list as the fastest growing privately held timeshare advertising company in the US, ranked number 44 on the Inc. Top 100 list of Advertising and Marketing companies nationwide. Jason Tremblay and the rest of the management and staff plan to cut a cake and spend a little time celebrating their accomplishments on their fifth anniversary, but then will quickly be back to business and fulfill their vision for the future. http://www.sellmytimesharenow.com/timeshares/index/content/searchrent/
Sell My Timeshare NOW anticipates expanding in 2009 with additional call centers, beyond their Dover, NH corporate headquarters. They plan to increase outreach efforts to resorts and owners associations, offering new solutions for resale needs and to create additional multi-media Internet content as a way to expand efforts to educate the public about the benefits of timeshare.
CEO Jason Tremblay is available for media interviews by emailing steveluba(at)sellmytimesharenow.com or by calling (603) 516-0649.
About Sell My Timeshare NOW LLC
Sell My Timeshare NOW LLC is a privately held company offering advertising and marketing for timeshare resales and timeshare rentals via the Internet. Through the first week in September 2008, Sell My Timeshare NOW had presented its customers over $332 million in offers to buy or rent timeshares.
###