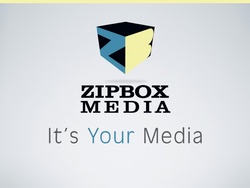 Nashville, TN (Vocus) June 15, 2010
Today ZIPBOX Media LLC, leading provider of digital download web sites, and Open Labs, the leader in enhanced computer music instruments, announced the addition of ZIPBOX Media technology to all new Gen6 Open Labs' Products.
ZIPBOX Media's digital download site technology allows creators of digital content; music, videos, images, software, and books the ability to easily create their own digital download site, with the power to control all aspects from site design, to product availability and pricing. In addition, ZipBox Media web sites give artists, and record labels a complete distribution solution that reports all sales to Nielsen SoundScan™ for charting on Billboard™.
Since 2003, Open Labs has been the recognized leader in providing musicians and producers of all genres, with high-performance, portable instruments that allow users the ability to create, record, mix and master everything from within the Open Labs device. Now Open Lab users will have the ability to distribute their music online worldwide via their own ZIPBOX Media digital download site. "ZIPBOX Media operates directly from within the Open Labs browser, allowing the creator a turnkey solution to sell music online."
Jim Stout, Product Manager for Open Labs said, "We are very excited to incorporate ZIPBOX Media's technology into the Open Labs work flow. This completes the final stage of the music-production process and that is the ability to sell music on-line. Now artists can do all of their production on a Neko or Miko, then upload to their own store and sell their music to the world all from one incredible musical instrument."
Paul Wright III, V.P. of Sales and Marketing for ZIPBOX Media said, "We are excited to partner with Open Labs. They have created a one-of-a-kind product that has revolutionized the music world and ZIPBOX has created one that revolutionizes digital distribution. The synergy of our partnership will enable artists to achieve astounding results."
With the release of Open Labs' newest version of the product line, Gen6, they will launch two new production stations, the Neko QX6 and the Miko QC6 to the already popular Neko and Miko line of products, all of which will ship with the ZIPBOX Media digital download site/technology on board along with a 60-day no-obligation free trial offer available exclusively to all new and current Open Labs users.
About Open Labs - Headquartered in Austin, Texas — at the crossroads of music and technology– Open Labs develops and markets cutting-edge studio and musical instrument technology. Since 2003, Open Labs has been the recognized leader in providing musicians and producers of all genres, with high-performance portable instruments that combine all the equipment found in a professional music studio with unsurpassed live performance capabilities. A-List artists currently using Open Labs products include: Timbaland, Jonathan Davis (Korn), Morris Hayes (Prince), Jesse Carmichael (Maroon 5) and Jimmy Nichols (Faith Hill) to name a few.
For more information on Open Labs, please visit http://www.openlabs.com.
About ZIPBOX Media - Established in 2008, Nashville, Tennessee-based ZIPBPOX Media, LLC is the leading innovator in digital media distribution. ZIPBOX Media is a web-based media distribution and management solution that enables individuals and companies to display, sell and distribute their digital media easily and inexpensively without the need of third party support or applications. ZIPBOX Media is designed for both novice and advanced users and includes a customizable website, digital media catalogue, secure shopping cart, secure file downloader, as well as accounting and sales reports, marketing components, and integrated email. The ZIPBOX Media Digital download site comes with a 30-day, no obligation free trial. After the free trial, stores are available for $18 per month which includes 5GB of storage. Upgrade packages offering additional storage and flexibility are also available.
To learn more, please visit: http://www.zipboxmedia.com.
ZIPBOX Media, the ZIPBOX Media Logo, and the ZIPBOX Media Digital Site are trademarks of ZIPBOX Media, LLC.
# # #