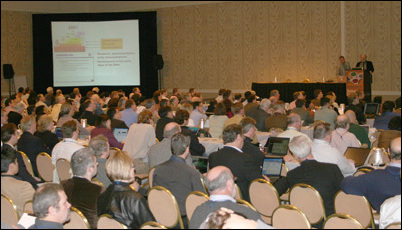 In a few years we'll take all this embedded semantic meaning for granted - we'll expect systems to be lot smarter. This is merely the beginning of a long-term build-out of semantic capability.
San Jose, CA (PRWEB) April 11, 2007
Wilshire Conferences today announces the 3rd annual Semantic Technology Conference, May 20-24 in San Jose, California. This year's event will be the largest event ever dedicated to the business of semantic technologies and the semantic web. Featuring over 130 expert speakers, 24 case studies, and more than 600 attendees, this gathering is attracting IT, research and business leaders alike.
With semantics and the semantic web at the center of the next phase of the Internet's development, pioneers such as Oracle, Raytheon, MetLife, Time Inc., Cleveland Clinic, Sandia Labs, US Air Force, NASA and TopQuadrant, along with many others spanning numerous industries, are uniting to educate attendees. The conference will touch on the basics of how the semantic web is being built using metadata, XML microformats, the W3C standards RDF and OWL, and other existing components. Presentations will focus on the newest technologies and applications-including SOA, ontologies, semantic integration, semantic queries, natural language extraction and semantic wikis-but on how these developments are already being used by businesses to generate revenue as well as save time, improve knowledge management, and reduce costs.
Agenda highlights include two Keynote panels. The first explores the practical aspects of Delivering Business Value with Semantics and includes senior technical and business executives from Oracle, Yahoo!; Garlik; NASA and the Object Management Group.
The second Keynote features a candid conversation with Entrepreneurs and Investors who are Building the Semantic Technology Industry. Mills Davis of Project 10X moderates, with panelists John Giannandrea, of Metaweb, Nova Spivak of Radar Networks Mark Greaves of Vulcan Inc., Nicholas El Baze of Partech International, and Bradley Allen from Siderean.
Describing the conference agenda, Tony Shaw, President of Wilshire Conferences, said "We're delighted with the caliber of industry leaders the conference has attracted, both on the speaker faculty as well as in the audience. SemTech is definitely the place to meet the people who are bringing semantic technologies to the world." Additionally, he is optimistic about the commercial opportunities semantic technology is providing: "In a few years we'll take all this embedded semantic meaning for granted - we'll expect systems to be lot smarter. This is merely the beginning of a long-term build-out of semantic capability."
In addition to the world-class educational sessions, the Semantic Technology Conference boasts a comprehensive presence of exhibitors unveiling the latest semantic innovations. Organizations including Oracle Corporation, TopQuadrant, Metatomix, JustSystems, FourthCodex, and Siderean Software demonstrate the advanced commercial capabilities of their latest products.
For more information about the world's largest and most authoritative conference on the commercialization of semantic technology, please visit
the conference website.
About Wilshire Conferences:
Wilshire Conferences, Inc., headquartered in Los Angeles, California, sponsors and organizes educational conferences for information technology professionals, primarily in the areas of data management and application development. Wilshire Conferences enables industry leaders, professional peers, and technology experts to interact and share best practices on the most effective ways to implement IT.
More 2007 programs from Wilshire Conferences include:

Data Governance Conference, June 25-28, San Francisco, CA
Service Oriented Architectures for Data Management (SOA), August 21-23, San Francisco, CA
Information and Data Quality Conference (IDQ), September 24-28, Las Vegas, NV
Please visit the Wilshire Conferences website for a description of these educational conferences or to sign up to receive announcements of future events.
# # #