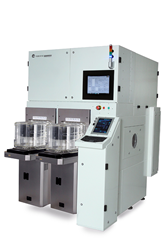 Livermore, CA (PRWEB) September 23, 2016
Yield Engineering Systems, Inc. (YES) announced they will be exhibiting and presenting at the Lab on a Chip Microfluidics & Microarrays World Congress 2016 being held September 26-28, 2016, at the San Diego Marriott Mission Valley in San Diego, California. This established conference in its 8th year brings together researchers and industry participants, discussing the innovative developments in the Lab-on-a-Chip (LOAC), Microfluidics, and the Microarrays Spaces. YES will be located at Booth #E24, promoting their YES-ÉcoCoat Silane Vapor Phase Deposition System.
YES' Founder and CEO, Bill Moffat, will also be leading a presentation at LOAC titled, "Need for Surface Tension Preparation for Microfluidic Devices". The presentation will delve into how to create successful microfluidic devices using silane vapor phase deposition. Silane Vapor Phase Deposition is ideal for LOAC users looking for:

SF6 plasma modification of tubes for heart transplant
Plasma adhesion of parts for a medical wall system
Plasma and chemical modification of capillary tubes for gas identifiers
Chemical modification of surfaces that need super-hydrophobicity for immersion in human blood without stiction
Distributing plasma and gas modifiers easily through the length of a microfluidic assembly
On October 18-19, 2016, YES will be exhibiting at the 13th Annual International Wafer-Level Packaging Conference (IWLPC). IWLPC brings together some of the semiconductor industry's most respected authorities addressing all aspects of wafer-level, 3D and MEMS device packaging and manufacturing. IWLPC is being held at the Doubletree by Hilton in San Jose, California. YES will be located at Booth #15, promoting their flexible tools for Wafer Level Packaging (WLP) and Fan-Out Wafer Level Packaging (FOWLP) type processes which offer increased performance, small footprint and low-cost of ownership. The YES-VertaCure and YES-450-PB Series dielectric vacuum cure ovens are used for polyimide, PBO and BCB cure applications.
"Our line of tools reach far beyond the front-end semiconductor industry we are most known for," said Bill Moffat, Founder and CEO of YES, "We have tools for a variety of industries including BioTech, WLP, FOWLP, MEMS and beyond. YES is continually researching niche markets where our systems are a good fit and make end-user processes accurate and simplified."
For more information regarding YES tools, visit http://www.yieldengineering.com or contact them toll free in the USA or Canada at 888-937-3637 or worldwide at +1-925-373-8353.
About Yield Engineering Systems, Inc.
YES was founded in 1980, and is headquartered in Livermore, California, USA. They provide quality process equipment for semiconductor, photovoltaic, WLP, FOWLP, MEMS, medical, nanotech industries and more.
They manufacture dielectric vacuum cure ovens, silane vapor phase deposition systems, plasma etch and clean tools used for precise surface modification, surface cleaning, and thin film coating of semiconductor wafers, semiconductor and MEMS devices, biosensors and medical slides.