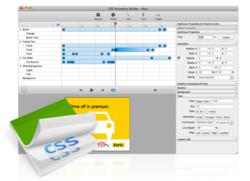 We're particularly proud of the new Scene system and click actions, which make it easy for interactive designers to create more complex and interactive mobile animations and ads.
Redwood City, CA (PRWEB) May 12, 2011
Sencha, the leading provider of HTML5 frameworks and tools for desktop and mobile application developers, has made available the initial Beta release of Sencha Animator, the industry's first purpose-built tool for creating CSS3-based animations that deliver plug-in-free rich-media experiences. Designed for interactive designers and advertising creatives that want to create cross-platform animations for playback on WebKit browsers and touchscreen mobile devices, Sencha Animator brings static Web pages to life—quickly and easily—and ensures high-fidelity playback on the Apple iPad, Apple iPhone, iPod Touch, BlackBerry Torch, BlackBerry PlayBook, and Google Android-based devices.
Aimed at designers who want to create cross-platform, rich-media animations and ads, Sencha Animator makes it easy to create CSS3-based animations that play on all the leading mobile devices and desktop browsers — without the need for plug-ins. CSS3 is an HTML5 family technology that runs on modern browsers, and is also hardware-accelerated on all Apple iOS devices and the BlackBerry PlayBook.
Beta 1 of Sencha Animator incorporates numerous changes and enhancements:

Refreshed UI reduces the learning curve and makes key controls more accessible
New editors for controlling colors, gradients and animation easing curves
Brand new Scene system improves timeline visualization and coordination
Read more about this beta release of Sencha Animator on the Sencha blog, or view the Sencha Animator demos. Beta 1 of Sencha Animator is available for immediate download from sencha.com.
"Since we previewed Sencha Animator last fall, we've received excellent developer feedback that has really informed our vision for the product," said Aditya Bansod, Sencha's senior director of product management. "We're particularly proud of the new Scene system and click actions, which make it easy for interactive designers to create more complex and interactive mobile animations and ads."
Sencha Animator extends the Sencha range of tools for web app developers
Sencha delivers application frameworks that enable developers to create rich applications for web browsers and mobile devices using web standards like HTML5 and CSS3. Sencha Animator and Sencha Touch deliver a powerful mobile application and animation environment for developers and creative designers. Key features of Sencha Animator include:

Create complex plug-in-free animations to power rich-media ads for smartphones and tablets
Full CSS3 support, including animations, 2D and 3D transformations, backgrounds, borders, font effects, and more
Interactive timeline and intuitive object property controls
Manage sequencing, grouping, easing, and other effects with a familiar timeline interface
Export animations to readable HTML
Powerful, intuitive, drag-and-drop development environment
Packaged as an easy-to-use desktop application for Mac and Windows
About Sencha Inc.
Sencha equips developers with frameworks, tools and services to help them build highly functional and engaging Web application experiences using HTML5 and JavaScript. The company's flagship product, Sencha Ext JS, is a cross-browser JavaScript framework for building rich Internet applications. It includes high-performance, customizable UI building blocks, a well-architected, extensible component model, and an intuitive, easy-to-use API. More than one million developers worldwide—representing more than 150,000 companies—use the Sencha family of open-source software to build amazing application experiences. Visit Sencha on the Web at sencha.com, read sencha.com/blog, and follow us on facebook.com/senchainc and Twitter @sencha.
###