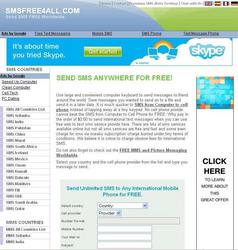 It is a great service for stomping the rising cost of international SMS rates -- with their free SMS.
Elk Grove, CA (PRWEB) May 3, 2010
Los Angeles, California based free SMS provider now allows anyone to send text messages to mobile phone (cell phone) users anywhere in the world, absolutely free. It allows people to literally send text messages around the world. So now anyone with Internet access can share in the fun of sending text messages. No cost. No need of a mobile phone. And certainly it is time to say good bye to high cost international SMS providers.
While overseas how to contact family and friends instantly back home in a shoestring budget? Seemingly nothing much to do but bite the bullet and send international SMS via a highly priced SMS plan. Some carriers are know to charge in excess of $0.50 per sent international text message. Even when one sign up for unlimited text messaging plan, buried in their fine print SMS plan does not include unlimited international SMS only domestic unlimited text messages. In order to eliminate those hundreds of dollars a month of international text messaging bills, smsfree4all a free SMS provider is attempting to reducing those costly text messaging bills to zero.
Thousands of daily visitors ranging from student studying abroad, expatriate works, and friends use it to keep in touch their friends back home via their free SMS service provided. This service, which allows users to send free SMS internationally without the need to sign up or purchase credits like many other services try to do. Most users of smsfree4all free SMS service visit the site for it's simple to use and straight forward approach for sending free text messages internationally.
For those of you are limited by 160 character size of SMS, can always use their new free multimedia messaging service (MMS) to by pass the SMS character limitation. Using SMSfree4all's free MMS service, users can send free picture messages worldwide. Their free MMS service allows anyone without any sign up to send free picture message worldwide with just a simple click of the mouse. With the prevalent use of cell phone cameras and video camera, picture messaging is catching up to text messaging in popularity. Via SMSfree4all, create short videos videos and send video messages via their recently launched new and free picture messaging service.
SMSfree4all is very exited to announce their newly added service where users can send free birthday SMS to their friends and loved ones on their birthday. All smsfree4all users need is to visit their free SMS birthday page and select the date and enter the message. Then submit the message to smsfree4all.com where on the exact birthday a free SMS message with customized birthday greetings will be sent automatically free of charge. This free SMS birthday service works for free SMS to India, UK, USA, Canada, Indonesia, Malaysia, Pakistan, China, Kong Kong, Philippines, France, Ireland, Switzerland, Turkey, Japan, Vietnam, Singapore, Nigeria, South African, Iraq, Egypt, Israel, UAE, Afghanistan, Bahrain, Serbia, Romania, Russia, Ukraine, Australia, Mexico, Colombia, Brazil, and many other countries. They are constantly working on adding new countries to this list.
Also, recently SMSfree4all added a new service where it provide thousands of it's daily users the capability with web-camera to save their live web-camera pictures and send it via their own free picture message service. With the users permission their live web camera images are captured and saved where user can download or removed them. This service is very useful for those users who have built in web cameras on their notebooks and laptop devices. For privacy considerations, images are automatically removed from server even when user forgets to clear the stored image.
Free web SMS not just only saves money but it is much easier to use a computer keyboard than type using a small cell phone screen or using a mini keyboard on a mobile phone. Also, this free sms via internet service allows to save large messages in computer for send free SMS at a later time. For average person it is much quicker to type the message using a computer keyboard than tap away at a tiny keypad even with predictive text turned on.
Worldwide more and more text messages are sent every day. People are use text messaging from declaring their love to gossip to chatting. SMS is becoming so common that some countries such as Malaysia permits divorce via text messaging. Many businesses, TV stations, radio stations, and organizations are using text messaging as a instant form of communication such as for voting and engaging their audiences. It is becoming the most important and common mode of communication for younger generation. SMSfree4all believes this mode of communication has to be affordable and accessible for everyone -- for us it must be free --as in free mobile SMS.
# # #