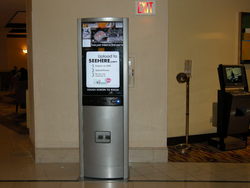 "As we move toward this potential expansion, it is a very exciting time for our company, our clients and our business partners. We are a natural fit for 2012 Olympic Games in the UK.
Royersford, PA (PRWEB) October 20, 2010
Send A Message, Inc's "SAM" is a multi-purpose digital media kiosk which provides hospitality and tourist locations with a powerful tool that delivers a very unique set of services while providing multiple revenue opportunities. SAM's easy to use personal media workstation allows users to quickly upload their photos from their digital cameras, create customized postcards and print them out of the kiosk. Users can also email their postcards directly from SAM.
Another feature allows users to upload their photos to the Fujifilm seehere.com website. This provides online storage and also offers the ability to create unique photo gifts.
Revenue is generated from the kiosk through the sale of postcards as well as on-screen advertising.
SAM units are managed remotely, and Fujifilm North America installs and maintains the units for Send A Message, Inc.
"Our digital media postcard kiosk packages a stunning technology design with an easy to use application that enables guests to create unique photo postcards with their personal media in just minutes," says Kristen Tsitoukis, president and CEO of Send A Message, Inc. "the potential for our company overseas is quite exciting and we look forward to making this a reality." said Tsitoukis.
http://www.sendamessageinc.com.
###