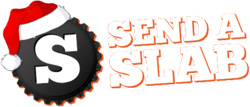 We often have trouble finding the right way to say 'thanks' to a mate, or to 'shout' a beer to a friend who may be living in the country or in a different state
(PRWEB) December 18, 2012
Australia is known as a nation of beer lovers, and the just-launched Send A Slab beer gifting service, plans to make it easy for Aussies to say Thank You, Happy Birthday, and Merry Christmas to their mates - with a 'slab' of beer.
A 'slab' is a colloquial term for a carton of 24 bottles or cans of beer, sometimes referred to as a case, box or crate.
Send A Slab is an online service, and the website is like most Aussies - straight to the point. At launch there are just three products from which to choose, each with a different price point.
The packs are called 'Average Bloke', 'Good Bloke' and 'Great Bloke' with tongue-in-cheek suggestions as to what type of person each pack is most appropriate.
"We've been working on the site for some time, and the beer selection was the hardest decision we had to make. We of course had to trial them all before we could settle on the final three." said Send A Slab creator, Shayne Tilley.
"We often have trouble finding the right way to say 'thanks' to a mate, or to 'shout' a beer to a friend who may be living in the country or in a different state – a problem we've now solved with Send a Slab.".
"With the click of a mouse we can have a slab of beer sent to whomever they choose, as long as they are in Australia and over 18" he said.
The licensed Send A Slab service uses Australia Post for delivery, which takes just 3-5 days from order placement. To conform with the Australian Liquor Control Reform Act 1998, both purchasers and receivers of orders from the service must be over the age of 18.
"We are really excited that our new services will be able to help Aussies to so easily Send A Slab, or order some for themselves this Christmas, and, of course, into 2013" said Shayne.
Details of the new service can be found at SendASlab.com.au
About
Send A Slab is a beer-loving company making it easy for you to send a slab of beer to your mates. Simply jump online, tell us where to send it, and we'll take care of the rest.
Your mate will have his slab delivered to his door, and you don't even have to get off the couch.
Details and FAQs can be found at SendASlab.com.au