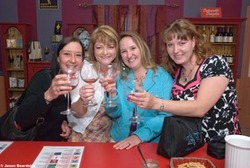 Corning, NY (Vocus) December 23, 2009
Seneca Lake Wine Trail in Finger Lakes Wine Country, New York has announced upcoming events for 2010. These events are scheduled throughout the year and truly offer something for everyone. Both standard tickets, and discounted designated driver tickets, are available immediately for the following events.
Polar Passport, $10 + tax, valid at most Trail Wineries, December 7, 2009 – March 31, 2010
Visit the Trail during the best time of year: the off season! The Polar Passport gives residents and visitors alike a convenient and affordable way to enjoy many of the wineries on the Seneca Lake Wine Trail. And while most people enjoy visiting the wineries during the busy summer and autumn season, the winter season is actually the best time to visit the wineries when owners, winemakers and vineyard managers are more available and are more likely to be available to chat in the tasting room.
Bargain Bash, this is a non-ticketed event, January 9-18, 2010
Participating wineries take the opportunity to clean out their inventory and drop prices on select items consisting of everything from wine, to wine glasses, clothes and other retail items. Subscribers to our mailing list also receive a postcard once per year that includes half a dozen coupons that can be used during this event.
Pasta & Wine Weekend, $25 for a standard, one person ticket, January 15-17, 2010
Pasta and wine: what a wonderful combination. Sponsored by Barilla, each participating winery will make a unique pasta dish paired with one of their delicious wines for you to sample. The event is sponsored by Barilla. This event coincides with Bargain Bash, so it's a weekend full of good fun, great wine, and fantastic deals .
Chocolate & Wine Weekend, $30 for a standard, one person ticket, February 12 – 14, 2010
Visit the wineries and sample chocolates, or foods prepared with chocolate, creatively matched with award-winning wines. Spend this romantic weekend with the one you love enjoying the finer things in life.
Cruisin' The Tropics Weekend, $30 for a standard, one person ticket, March 26 - 28, 2010
Pull out your tropical shirt and put on your sunglasses and join us for a very tropical weekend in Finger Lakes Wine Country. This event is a self-guided tour "cruising" around beautiful Seneca Lake, visiting wineries, each with their own tropical theme. Visit the Trail, enjoy some great wine, sample the tropically-themed dishes served at each of the participating wineries, and enjoy the many activities and themes that each winery takes special care to create. What better way to escape winter, than to cruise around the Trail sampling wines, eating unique food and having a great time with your friends and family!
Spring Wine and Cheese Weekend, $30 for a standard, one person ticket, April 23 - 25, 2010
Spring Wine and Cheese Weekend, co-sponsored by McCadam Cheese, combines the classic tastes of wine and cheese into one delectable weekend. This event is a great opportunity to experience a vast array of food and wine combinations.
The Riesling to Visit Passport, $12 + tax per booklet valid May 1 – August 31, 2010
Our region is known for some of the world's finest Rieslings. Now in its third year, the Passport is a terrific value. Armed with this little booklet, the Passport enables wine enthusiasts to enjoy a free flight of wines at each of the over 25 participating wineries, many of which include a sample of that winery's Riesling.
December Deck the Halls Weekend, $70 for a standard couples ticket, November 19-21 & December 3-5, 2010
The wineries are decorated for the holiday season and ready to celebrate with you. Over this three day weekend event, visit participating wineries and enjoy a weekend of food, wine, and fun. Each ticket includes a grapevine wreath and recipe book, to be picked up at your starting winery, then enjoy decorating your Christmas wreath with a unique ornament from each winery you visit. Each person receives a food and wine pairing at each participating winery.
Tickets for all these events can be bought online at Seneca Lake Wine Trail or purchased directly from the Trail office by calling toll-free at 877-536-2717. Limited numbers of tickets are available for all of these events, with many events selling out every year.
Surrounding the sapphire waters of Seneca Lake, the 36 wineries of the Seneca Lake Wine Trail invite you to experience a destination rich in history and beauty. Located in the heart of New York's Finger Lakes Wine Country, our climate supports not only the growth of hardy native grapes and premium hybrids, but also more delicate varieties such as Riesling, Chardonnay, Cabernet Franc and Pinot Noir. Along the Seneca Lake Wine Trail you will truly find a wine to suit every taste.
The mission of Finger Lakes Wine Country Tourism Marketing Association is to promote economic development in Chemung, Steuben, Schuyler and Yates Counties in the State of New York, and to improve the quality of life in those counties, by supporting and improving the tourism industry.
###