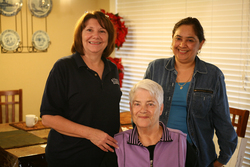 This was particularly true toward the top of the ranking, where many chains remarkably grew sales last year
Omaha, NE (Vocus) November 11, 2010
Entrepreneurs can generally count on franchising through economic thick and thin. While the recent recession chipped away at some segments of the industry others, including the senior care franchise market, have remained strong, according to the October issue of Franchise Times. For instance, Home Instead, Inc., the franchisor for the Home Instead Senior Care® network, which serves seniors in a global marketplace, moved up the list from 110 two years ago to 92 this year.
This year's top 200 franchise companies took in $468.6 billion in 2009, a decline of just more than 1.1 percent from the previous year.
Real estate agencies and home improvement franchise companies felt the effects of the worst housing market in U.S. history, and staffing agencies struggled as companies stopped hiring. But all the news in this year's report is not bleak. In fact, plenty of companies bucked this trend, the magazine reported. "This was particularly true toward the top of the ranking, where many chains remarkably grew sales last year," the magazine noted.
McDonald's again finished as the top-ranked franchise in the world with more than $72.4 billion in system sales -- $1.8 billion over the previous year. 7-Eleven sales were nearly 10 percent higher than the year before, and KFC remained No. 3, thanks to its international business, which helped offset domestic weakness.
Growth of international markets boosted other industries. Franchise systems were more likely to do well last year if they had a substantial percentage of international locations. For example, the Home Instead Senior Care® network benefited from a strong international presence as the company continued to grow its global franchise.
Nearly one-third of the company's franchise system – 263 units – is located in 13 other countries. "We have found that the need for senior care knows no geographic bounds," said Tim Connelly, director of Franchise Development for Home Instead, Inc. Franchise owners hire CAREGiversSM to go into the homes of seniors to help them with their companionship and non-medical needs.
"Domestic growth has been steady as well, helping the network reach 891 total franchises and $698 million in world-wide sales in 2009 compared with $558 million just two years ago," Connelly noted. "What's more, in-home non-medical senior care is still a relatively new industry. There is room to grow with a number of open territories waiting for franchisees to serve an aging population and family caregivers in need of respite services," he said.
The 2009 Franchise Times report noted that a decade ago, there were no elder-care companies on the list. "As part of a major growth industry, senior care is here to stay and we expect to continue to grow," Connelly said. "According to the U.S. Census Bureau report, the population 65 and older will more than double by 2050, rising from 39 million today to 89 million," Connelly added. "Sheer demographic numbers and a heart to serve seniors will continue to drive our business."
Companies on this year's top 200 list have 440,308 locations about 68 percent of which are domestic.
Anyone thinking about starting a business can learn more about senior care business opportunities, by registering for the next one-hour Home Instead Senior Care Franchise Opportunities webinar, scheduled for November 17 at 1 p.m. Eastern Time. Or they can register for the 6 p.m. webinar also on November 17.
--------------------
About Home Instead Senior Care
Founded in 1994 in Omaha, the Home Instead Senior Care network is the world's largest provider of non-medical in-home care services for seniors, with more than 875 independently owned and operated franchises in 14 countries and 15 markets, spanning four continents.
###