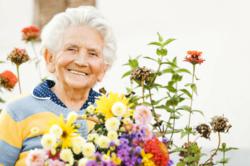 Tiburon, CA (PRWEB) April 12, 2013
Ongoing group support for patients with early onset (also known as younger-onset) Alzheimer's and their family members is held monthly at the California Pacific Medical Center. The next support group session will be held on April 24. These sessions are ongoing every fourth Wednesday of the month from 4-5:30 p.m. at the CPMC's Pacific Campus, 2100 Webster St., Room 106, San Francisco, CA 94115.
The group is a result of a year of negotiation between the CPMC and Living Well Assisted Living at Home. When it became clear that the medical center needed a support group for Alzheimer's patients, CPMC welcomed Living Well to support patients and their family members.
The Alzheimer's Association states, "Every 72 seconds, someone in America develops Alzheimer's." This is a statistic of U.S. data on Alzheimer's disease published by the Alzheimer's Association. The numbers of people presenting this disease are increasing as people live longer and resources are not sufficient. The Living Well group comes to join forces with other organizations trying to close the gap in supportive services for people with Alzheimer's and their family members.
The Early Alzheimer's Support Group is sponsored by the Community Health Resource Center at the California Pacific Medical Hospital in San Francisco and Living Well Assisted Living at Home.
Alzheimer's is not just a disease of old age. Early onset Alzheimer's affects people younger than age 65. Nearly four percent of the 5.4 million Americans with Alzheimer's have early onset. Doctors do not understand why most cases of early onset Alzheimer's appear at such a young age. Many people with early onset are in their 40s and 50s. They have families, careers or are even caregivers themselves when Alzheimer's disease strikes. In the United States, it is estimated that more than 200,000 people have early onset.
Patients, caregivers or loved ones can join Living Well's support group to connect with others in a similar situation for advice, friendship, education or just a friendly shoulder. The group is free and no pre-registration is required.
"We saw a need and an opportunity to bring the Living Well services to the greater Bay Area by serving the Peninsula, Sonoma, and Northern Marin County," said Living Well specialist Elke Tekin. "Expanding to these areas, we'll be able to provide more people in need with our specialized services as the needs of the senior population grow more complex — especially when there is loss of memory or mobility. As you understand the value of staying at home, the power of autonomy and the importance of community to longevity and health — you seek a new model for elder care that supports aging in place."
About the company: Living Well offers specialized care for adults with chronic and debilitating conditions — like Alzheimer's, Parkinson's, ALS, and mental illness — that compromise their ability to live safely in their homes. At Living Well Assisted Living at Home, they combine a team of experts, the use of smart technology with exceptional customer service to deliver personalized, comprehensive care to seniors and adults with cognitive, behavioral, and movement disorders. Their approach to care at home enables those seniors and adults affected by Alzheimer's Disease and other dementias, Parkinson's, ALS, other neurological disorders, and mental illnesses, to live independent and meaningful lives. At Living Well, they aspire to create a safe and nurturing environment while allowing for independence and dignity for seniors and adults and offering peace of mind to the adult children and family members.