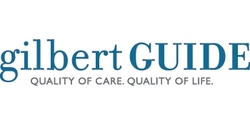 We're eager to have Laurie on board the Gilbert Guide team and look forward to the depth of knowledge she can provide on the topic
San Francisco, CA (PRWEB) January 5, 2009
Gilbert Guide, a leading senior care website, is pleased to announce the launch of its newest expert column examining the current trend of aging in place technology. The addition anchors Gilbert Guide's placement in the industry as being "ahead of the curve" with its consumer-focused website that has offered practical solutions, expert information, and the most comprehensive senior housing guide and homecare directory since 2003. The monthly column, written by Laurie M. Orlov, will address the current senior care trend of 'aging in place,' or seniors who continue to live in their own homes for as long as they choose with only minor to moderate assistance. Laurie, with the assistance of Gilbert Guide's own insider knowledge, will touch on key points and keep readers abreast of the evolving landscape of aging in place technologies.
"We're eager to have Laurie on board the Gilbert Guide team and look forward to the depth of knowledge she can provide on the topic," said Jill Gilbert, President and CEO of Gilbert Guide. "Laurie's experience and years of research have prepared her to be a leading authority on the emerging trend of aging in place technology for seniors. Gilbert Guide is eager to share Laurie's cutting-edge insights with our readers."
Laurie, who spent thirty-four years in the technology and market research industry as well as nine years as an analyst and research director at Forrester Research, has been at the forefront of identifying the technologies and trends of aging in place. She will be responsible for a large portion of the footwork involved in discovering new products, tips, and tools that make the difference between an elderly loved one continuing to live in the comfort of his or her own home or moving into a facility.
Realizing that people want to be independent for as long as possible, she has pinpointed the requirements and solutions that help seniors continue to live in their own homes while still remaining in touch with the outside world, necessities that include communication with others, medication management, safety preservation, continual enhancement of health, and task simplification. In the coming months, Laurie's goal for the senior care column will be both analytical and expository in nature, providing product reviews, step-by-step guides, public surveys, and directives. Gilbert Guide, which offers instant access to solutions for community living or aging in place, hopes that this information will help consumers make more informed decisions for their loved ones. To read Laurie's column or many of the other senior care articles on the Gilbert Guide website, please visit http://www.GilbertGuide.com.
About Gilbert Guide
Gilbert Guide is the leading senior care website where consumers find practical solutions, expert information, and the most comprehensive senior housing guide and homecare directory for loved ones. The site's rich online resources written by industry experts give families and friends the tools necessary to make informed decisions about senior care issues. The company was founded on the concept that quality matters and maintains that its primary goal is to educate consumers on emerging trends impacting today's seniors. For a comprehensive provider database, expert advice, and quality assessment tools that help consumers conduct their own "expert" evaluations of providers, please visit GilbertGuide.com.
###