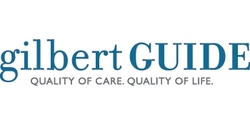 Gilbert Guide is honored to be included in Laurie's study, which encourages companies to create new products that help consumers safely age in place
San Francisco, CA (PRWEB) March 18, 2009
Gilbert Guide, the Internet's leading senior care and aging information portal, is pleased to announce its participation in industry analyst Laurie M. Orlov's comprehensive, landmark aging in place study, which was released on March 18, 2009 in conjunction with her presentation at the What's Next Boomer Summit in Las Vegas, NV. The aging in place concept, an ideal alternative for aging consumers who wish to remain in the comfort of their own homes, introduces a number of technological advances to help seniors move about their homes with only minimal daily assistance. Laurie has remained a leader of the concept and is the first in her field to release a study of this magnitude, which provides a complete overview of the industry by helping companies evaluate their own roles within it.
"Gilbert Guide is honored to be included in Laurie's study, which encourages companies to create new products that help consumers safely age in place," said Jill Gilbert, President and CEO of Gilbert Guide. "The downturn in the real estate market has forced more seniors to remain in their homes, driving the need for more specialized solutions for this growing number of aging consumers."
With more than thirty years experience in the technology industry as well as many years spent as an industry analyst at Forrester Research, Laurie is a well-respected speaker at many conventions and symposiums across the US and is a contributor to a variety of eminent senior care publications, including her featured monthly column on the Gilbert Guide website. Blending both her years of experience and recent in-depth research on the subject, Laurie's forward-looking study is illustrated with descriptive graphics and detailed examples that deconstruct the aging in place model to make companies more in tune with this growing trend.
In addition, she has identified four areas of focus that fit together seamlessly when implemented into a home; health and wellness, home safety and security, communication and engagement, and learning and contribution all work in tandem to help companies devise the right kinds of products for aging consumers who use these emerging technologies to keep up with daily activities. Laurie also introduces the concept of role- and need-based hubs - informational portals that familiarize online audiences with aging in place technologies and provide a faster means of purchasing senior care products and supplies that comply with these trends. Naming Gilbert Guide as one of these role-based hubs, Laurie outlines how educating consumers and vendors on senior care initiatives as well as presenting new products, tips, and tools has kept Gilbert Guide at the forefront of these technologies. For more information on Laurie's aging in place study release or to read more about this new area of senior care, please visit http://www.GilbertGuide.com.
About Gilbert Guide
Gilbert Guide is the leading senior care website where consumers find practical solutions, expert information, and the most comprehensive senior housing guide and homecare directory for loved ones. The site's rich online resources written by industry experts give families and friends the tools necessary to make informed decisions about senior care options, including quality nursing homes, assisted living facilities, and homecare providers. The company was founded on the concept that quality matters and maintains that its primary goal is to educate consumers on a breadth of senior care issues. For a comprehensive provider database, expert advice, and quality assessment tools that help consumers conduct their own "expert" evaluations of providers, please visit http://www.GilbertGuide.com.
###