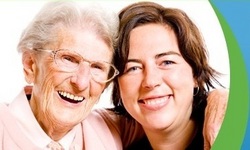 For all of us needing a fast, easy and comprehensive source to help find care for an aging loved one.
Los Angeles, CA (PRWEB) November 19, 2010
Though still pretty new on the scene, GeriCareFinder.com has continued to rack up a series of awards for excellence in their efforts to serve the senior care market. This year they picked up the 2010 Generations Platinum Award for Best Overall Website, signaling the helpfulness of their site and its high rankings with users. The Generations Awards is an International Competition for Excellence in Senior Marketing, and it ranks companies over 62 different categories, including concept, design, content, and communication to the 50+ market.
The competition is judged by professionals in the marketing, public relations, media and online, and advertising industries. Companies were ranked on a scale of 1-100, with Platinum Winners having received top scores that were between 90 and 100 from each judge. Each entry was judged independently. The international nature of the honor catapults GeriCareFinder.com to the status of a big online player, despite the fact that the company is only 3 years old. The Platinum Award for Best Overall Website is a sign of just how easy to use GeriCareFinder's site is, and how appropriate its content is for users.
President Ron Kustek originally created the site from the vantage point of having to care for his own close friend, but quickly found the task difficult due to the fact that there was no online source that brought all the various aspects of senior care together. After he got tired of finding out important senior care-related information and pertinent service providers through ad-hoc, multiple searches, he decided to create GeriCareFinder.com. In his own words, since its conception the website was created, "For all of us needing a fast, easy and comprehensive source to help find care for an aging loved one."
Ron's past experience has definitely imbued GeriCareFinder's content and services with the level of usefulness needed by his target audience. Obviously, he has been successful, as attested by the large amount of business partners who have chosen to pay to list their services on the site. The website goes a long way in educating someone new to the complex world of senior care. It is organized in three easy to understand categories: Senior Care Providers, Advisors, and Products and Services. The best part is that a user can search by zip code under any of these basic headings, and get local results for: doctors, home care, tax and estate attorneys, Medicare and Medicaid consultants, Social Security advisors, retirement homes, assisted living, hospice services, house cleaning, medical supplies, long term care insurance, prescription plans, etc. the list goes on.
GeriCareFinder.com is also full of information in the form of helpful articles and various free, interactive tools, such as financial calculators and their proprietary MyGeriCareWorkspace TM. This last feature allows users to post and share messages with their loved ones far away about providers, services or financial information. Basically, this one source will tell you everything you need to know about how to care for a senior, and give you the tools to make informed care decisions. Their Platinum Award is well-deserved.
GeriCareFinder.com is the internet's first and only one stop information and search tool where people who are overwhelmed and undereducated about the complicated world of senior care can go to become educated, and to search for relevant, local results. For more info, visit http://www.GeriCareFinder.com
###