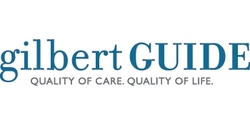 Our new senior care roadmap system will help users consider things that they might not have thought about previously
San Francisco, CA (PRWEB) April 21, 2009
Gilbert Guide, the leading senior care and aging information portal online, announces a new addition to its growing base of educational resources for the families, friends, and loved ones of aging individuals -- a comprehensive senior care and health education resource guide. More than just a re-landscaping of the existing Gilbert Guide learning center landing pages, the new guides, accessible from the home page, will feature interactive, easier-to-navigate layouts and quicker access to information, answers, and solutions.
"Our new senior care roadmap system will help users consider things that they might not have thought about previously," said Jill Gilbert, President and CEO of Gilbert Guide. "The introduction of this care and health education resource will provide individuals and families with a detailed look at the whole picture and facilitate in making the right decisions for their aging loved ones. Our ultimate goal is to guide caregivers and concerned loved ones to the right information the first time around and eliminate time spent searching the Internet."
Each educational 'roadmap' will introduce and touch on key topics as well as present thought-provoking questions and scenarios for careful consideration. The purpose, of course, is to guide visitors through the process of caring for 'Mom' or 'Dad' by offering insightful answers, tips, tools, and resources in a concise format as well as access to local care and senior supply providers. The new guidance system will give users the ability to browse through topics on pertinent senior care issues, such as home care, Alzheimer's and dementia, finance and legal, senior housing, end-of-life, hospice and palliative care. To learn more about Gilbert Guide or to begin exploring the new senior care and health education resource and guidance system, please visit http://www.GilbertGuide.com.
About Gilbert Guide
Gilbert Guide is the leading senior care website where consumers find practical solutions, expert information, and the most comprehensive senior housing guide and homecare directory for loved ones. The site's rich online resources written by industry experts give families and friends the tools necessary to make informed decisions about senior care options, including quality nursing homes, assisted living facilities, and homecare providers. The company was founded on the concept that quality matters and maintains that its primary goal is to educate consumers on a breadth of senior care issues. For a comprehensive provider database, expert advice, and quality assessment tools that help consumers conduct their own "expert" evaluations of providers, please visit http://www.GilbertGuide.com.
###