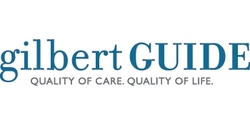 With the input we receive, we can continue to expand our ever-growing resources to help families, friends, and caregivers provide quality senior care.
San Francisco, CA (PRWEB) March 26, 2009
Gilbert Guide, a leading senior care website, is excited to announce its newest resource tool--the online introduction of an extensive collection of videos covering supportive home care, advanced directives, clinical trials, coping with loss, cancer treatments, and more aimed at educating today's seniors and their families and friends. Though many of the videos can now be found on YouTube, Gilbert Guide has also created a specialized video landing page that highlights the necessities of home care for seniors and introduces the kind of quality information consumers need with step-by-step instructions for providing care or helping a loved one in the home.
"In the future, we see our visitors uploading their own videos, offering suggestions on home care for seniors that have proven helpful in the course of caring for an aging loved one," said Jill Gilbert, President and CEO of Gilbert Guide. "With the input we receive, we can continue to expand our ever-growing resources to help families, friends, and caregivers provide quality senior care."
Produced by Dr. Ernest Rosenbaum in conjunction with Mt. Zion Medical Hospital, the innovative series of videos feature some of the senior care industry's most well-known experts, such as Jack LaLanne, and provide practical, step-by-step instructions on home care for seniors. Dr. Rosenbaum, who is also an expert columnist for Gilbert Guide, has more than forty years of experience researching preventative medicine and supportive home care guidelines for seniors and has written a number of informative articles and books on cancer, hematology, and improving the quality of life.
The videos, which discuss vital senior care issues such as coming home from the hospital, performing exercises while bedridden, managing fatigue, and dealing with bowel and bladder issues, have been re-introduced for their valuable information that remains just as accurate the second time around. To learn more about Gilbert Guide or to watch any of these unique senior care videos, visit http://www.GilbertGuide.com.
About Gilbert Guide
Gilbert Guide is the leading senior care website where consumers find practical solutions, expert information, and the most comprehensive senior housing guide and homecare directory for loved ones. The site's rich online resources written by industry experts give families and friends the tools necessary to make informed decisions about senior care options, including quality nursing homes, assisted living facilities, and homecare providers. The company was founded on the concept that quality matters and maintains that its primary goal is to educate consumers on a breadth of senior care issues. For a comprehensive provider database, expert advice, and quality assessment tools that help consumers conduct their own "expert" evaluations of providers, please visit http://www.GilbertGuide.com.
###