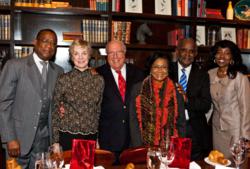 My husband Marvin and I dined at Dinner à la Heart for more than 20 years
San Francisco, CA (PRWEB) February 18, 2012
Friends and supporters of San Francisco senior resource, Institute on Aging (IOA) gathered on Feb. 7 for the 29th Annual Dinner à la Heart Fundraiser. The event simultaneously occurred at more than 50 of the Bay Area's most popular restaurants. Thanks to its sponsors, patrons and participating restaurants, IOA raised $175,000 on this evening.
The unique evening brought together San Francisco's finest qualities: delicious dining, great people and a caring spirit.
For Co-Chair Roean Iscoff, who's been attending Dinner à la Heart since the beginning, the spirit of the event is sentimental.
"My husband Marvin and I dined at Dinner à la Heart for more than 20 years," Iscoff said. "We met at the Jewish Center one New Year's Eve and were married for 43 years. He is gone now, but I can still remember planning the event with our friends."
IOA reserved tables for Dinner à la Heart at many of San Francisco, Marin and the Peninsula's finest participating restaurants, including Barbacco, Gary Danko, Il Fornaio, Kokkari Estiatorio, One Market, Trader Vic's, Wayfare Tavern and others.
After more than 25 years, the fundraiser has become a beloved tradition and a festive night-out, giving Bay Area residents of all ages the opportunity to enjoy delicious meals at fine restaurants while supporting senior services and the community. Proceeds directly benefit IOA services, which include health care and social support, expressive art classes, transportation, nutritious meals, telephone reassurance, medication reminders and more.
IOA, a respected San Francisco senior resource for more than 30 years, has provided seniors and their caregivers with vital assistance and care. Many seniors and older adults can continue to live in their own homes or with family if they have appropriate support services. For adults who require help with medication, healthy meals or simply the social interaction that keeps life interesting, adult day care programs are a wonderful addition to senior care. Day programs provide a safe and enjoyable environment, creative activities, exercise, and in some cases, on-site health services. An alternative to daily in-home care, these programs provide critical services for families who need to work but who also need care for a senior who may require attention throughout the day. IOA offers three Adult Day Programs for San Francisco seniors.
The institute also provides many other services, including geriatric health needs assessments, in-home care and assistance, and counseling and spiritual support, as well as caregiver resources. Altogether, the institute provides a vital senior resource for seniors and caregivers throughout the San Francisco Bay Area.
For more information about Institute on Aging's services, call 415-750-4140, view the senior resource on the web at http://www.ioaging.org or visit 3575 Geary Blvd. in San Francisco.
About Institute on Aging
The Bay Area's senior home care provider, Institute on Aging is a community-based, non-profit organization that provides supportive health and social services to older adults and their families in San Francisco, Marin and the Peninsula. IOA's mission is to enhance the quality of life for adults as they age by enabling them to maintain their health, well-being, independence and participation in the community. IOA fulfills this mission for a diverse community by developing and providing innovative programs in health, creative arts, spiritual support, education and research.
###