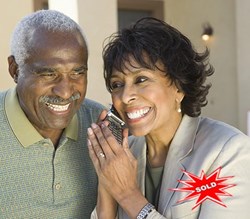 "Older homeowners are retrofitting their homes to accommodate their future needs." ~ Joint Center for Housing Studies of Harvard University
Minneapolis, Minnesota (PRWEB) February 10, 2013
The National Association of Home Builders (NAHB) released a report on their latest survey showing that home builder's are confident that seniors are buying and retrofitting homes in 2103. The What Home Buyers Really Want survey was a joint accomplishment by the NAHB Economics and Housing Policy Group in 2012.
"Like most home buyers out looking to buy a home in today's tight Minneapolis housing market, the 55+ segment searching for real estate listings face a low inventory of single-family homes for seniors to choose from. When beginning their search, seniors that are already pre-qualified and have a home loan in hand have a needed advantage. Trying to buy a home without one is truly daunting, especially when looking for a very specific home," says Home Destination's owner Jenna Thuening.
According to NAHB's findings, two top preferences seniors expressed for what they'd want in a home purchase are:
1) Adequate living space and number of rooms to meet needs
2) Ease of home maintenance
Home builders confidence that seniors are buying and retrofitting homes improved the fourth quarter of 2012 compared to the same period a year ago, according to the NAHB latest 55+ Housing Market Indices (55+ HMIs).
NAHB has separate 55+ HMIs for two segments of the 55+ housing market: single-family homes and multifamily condominiums. A strong trend is growing amongst seniors to choose living with other family members and enjoy a quality life made up of close family bonds. Each senior HMI is based on a survey that asks if market conditions are good, fair or poor. An index number below 50 indicates that more builders view conditions as poor than good
Home Destination finds the following highlights In NAHB's 55+ HMI Report on senior housing trends:

Both 55+ HMIs remain below 50 but have gained substantially over reports from one year ago
Seniors living in single-family residential homes increased 10 points to a level of 28
Report findings show a fifth consecutive quarter of year over year housing gains
Multifamily condos remain the weakest segment of the 55+ housing market and many prefer remaining in their own homes
Still the gains for the 55+HMI for condos were strong enough to record a substantial year-over-year increase of six points to 19.
69% of this senior age demographic prefer a single-story home, where as the percentage is 57% across all age groups.
20% of individuals age 65 and older have plans to buy a home in the next one to three years. That includes the range of a single-family detached home, townhome attached, multi-family apartment, mobile home, or "other".
48% of senior respondents said they'd like a new home to range between 1,600 and 2,499 square feet.
39% indicated that adequate living space and number of rooms to meet needs is the number one characteristic that would most influence seniors to purchase a new home.
42% of the seniors surveyed said ease of home maintenance was a requirement when buying a home.
45% want a home with energy efficient features.
Confirming U.S.senior housing demographics, Harvard University's Joint Center report on Housing Americas Seniors says, "Even though nine out of ten seniors 70 and over live in conventional housing, the regular stock is not designed to meet their changing needs, tastes, and preferences". Seniors have the highest homeownership rates of any age group, making up nearly one-quarter of all home owners, a segment the housing market is adjusting to accommodate better.
" Buying a ranch home and gaining living quarters all on one level is a first step for many. However, a range of home renovations are still needed, from installing handrails to structural modifications that would help seniors function more easily at home," says Thuening.
Additionally, the US Census Bureau reports show that Minnesota's residential population is increasingly made up of a greater percentage of seniors. The bureau projects that, led by the baby boomers, the population age 65 and over will increase nationally by 15.5 million—nearly 40 percent—between 2010 and 2020. The near-term older population growth is already underpinning a strong demand for retrofits to existing homes, enabling senior households to age in place gracefully.
Home Destination, a Minneapolis residential Realtor with RE/MAX Results, helps families buying a home make well informed decisions and guides them thorough the process. Twin City senior homeowners desiring help to stay in their homes, sell or buy a home to meet their home ideals, can reach Home Destination by calling 612-396-7832 and asking for Jenna Thuening.