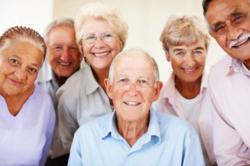 Senior citizens have more disposable income and outspend any other age group, yet only 5% of advertising is targeted toward this generation
Atlanta, GA (PRWEB) April 11, 2013
This mature market has the free time and the financial resources to be the model customer for marketers. Senior citizens have more disposable income and outspend any other age group, yet only 5% of advertising is targeted toward this generation. AccurateLeads recent release of information on this vertical market is in part an overall strategy to advance marketers ambitions to dominate the way other age groups are targeted.
Direct marketers are under pressure to capture the attention of consumers more than ever due to the slow economy. According to the U.S. Census data, today's mature market controls 75 percent of the nation's wealth, and 70 percent of its disposable income. This is a highly profitable segment that businesses can cash in on. However, this mature audience is very diverse and selling to this group can be tricky.
The vertical market released by AccurateLeads features seniors over 65, individuals 64 turning 65, and the rising baby boomers. In addition, there are lists of demographics that can be applied to enhance the file. The research and valuable tips will allow marketers to focus on a target audience that will increase response by getting offers into the right hands.
Companies can prosper with this mature audience that is now the largest and fastest growing population. Furthermore, they are living longer and if targeted in the right way, they can become very loyal and generous customers.
About AccurateLeads
AccurateLeads is a leading provider of direct marketing services that help businesses grow their client basis. Founded in 1984, AccurateLeads has developed a unique process that helps businesses create an individualized multichannel marketing plan to create growth and beat out competition.
For additional information feel free to call our toll free number at any time: (800) 685-4787.