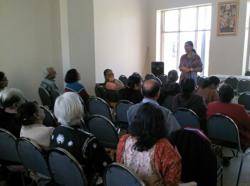 "The elderly community is unfortunately faced with so many health challenges...yet they're mostly offered medication as a solution. Very few are aware of the immense benefits of meditation." - Kalpana Rajdev, MD Geriatrician
Houston, TX (PRWEB) February 21, 2012
Recently at one of Isha Foundation's meditation sessions, a group of 250 seniors were guided by volunteers in learning a simple but powerful process with the potential to greatly improve their daily quality of life. After the process, one 99 year-old woman in attendance smiled broadly and shared how happy she was and how much the process had touched her. Called Isha Kriya, the meditation that she learned has been shown to reduce stress, which can ease chronic ailments and reduce need for medications. When practiced regularly, this meditation can improve wellbeing by reorganizing the body's energy.These free Isha Kriya meditation sessions will play a large part of Isha Foundation's Heath and Yoga Awareness Week (Feb 20th – 26th), conducted for the purpose of sharing the health benefits of yoga and meditation with the senior community as well as students, medical professionals, and the general public.
Kalpana Rajdev, MD Geriatrician and foundation volunteer, states, "The elderly community is unfortunately faced with so many health challenges including chronic ailments and decline in memory and functionality, yet they're mostly offered medication as a solution. Very few are aware of the immense benefits of meditation. Meditation is simple to do, easy to learn, free of cost, has no side effects, and offers numerable health benefits. Meditation tops all my prescriptions!"
Though the volunteers plan to return back a few times to reinforce the technique, Isha Kriya is simple enough for seniors to continue on their own, and with regular practice they can expect reduced anxiety and stress. As a result, chronic ailments can improve, and even some medications can become unnecessary, improving overall quality of life. Dr. Rajdev remarks that this improvement and lessened need for medications resonates particularly well with the senior participants, as does the prospect of improved memory and concentration.
Another Isha volunteer, Gomathy Swamy, has visited members of the Indian Senior Citizens Assoc., as well as residents of four residential living centers (The Solana at Cinco Ranch, Atria Senior Living, Sunrise Senior Living and The Terrace at Willow Brook). "It's such a privilege to be able to offer this to seniors," she says. "I love to see sparks of enthusiasm, which seem to return them to an earlier time. I get wonderful glimpses of them in their prime." She reports that in the centers, both participants and administrative staff have expressed their hope to continue to come together and practice the meditation, perhaps adding it to the daily schedule.
To learn more about the health benefits of meditation and Isha Foundation's Health and Yoga Awareness Week, visit http://www.BeBreatheBlossom.com/Health or email houston(at)ishafoundation(dot)org.
###