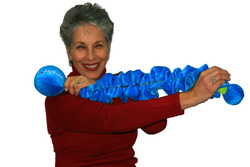 The fitness industry tends to focus products on the already exercise-conscious 'active older adult' and overlooks the majority of seniors - those who still resist exercising because of conditions such as arthritis and lack of established habit
Bethesda, MD (PRWEB) May 16, 2008
More than 80% of older Americans (over 40 million people age 65+ or older) get no regular exercise (Newsweek, March 2007). Yet many in this age group fear losing their mobility and independence. A new exercise system from BigBand Fitness, LLC, a woman-owned business in Bethesda, Maryland (http://www.bigbandfitness.com ), addresses this paradox with a convenient, effective, and affordable product designed to improve the strength and flexibility needed to get up and down stairs, hold grandchildren , carry packages, dress and perform other activities of daily living.
"The fitness industry tends to focus products on the already exercise-conscious 'active older adult' and overlooks the majority of seniors - those who still resist exercising because of conditions such as arthritis and lack of established habit," says BigBand Fitness founder Deborah Blank. A retired corporate trainer, entrepreneur and grandmother, she observed that many of her cohorts lacked the strength and flexibility to enjoy activities with grandchildren. Investigating this problem further, she found that 1) large numbers of older people living on their own struggle with daily activities, 2) are concerned about further physical decline, and 3) find traditional "gym" equipment intimidating and difficult to use.
Blank approached Carol Levy, a certified senior fitness trainer to learn more about senior fitness. Levy, who teaches fitness classes to people in their 70's and 80's, expressed frustration with uncomfortable and unwieldy exercise aids such as latex resistance bands, weights and balls that she used in her classes. The two women saw a market opportunity for a comfortable and affordable fitness program that could help the less active older adult preserve independent living.
The BigBand Fitness System that Levy and Blank co-created with input from gerontologists and physical therapists is a colorful and appealing all-in-one soft fabric-covered device comprised of resistance tubing and rubber gripper balls. Its comfortable, non-intimidating appearance invites people to pick it up and experiment. BigBand's functionality is based on resistance principles, proven to build strength in older adults. It is effective for chair-bound and bed-ridden users as well.
The soft fabric covering protects arthritic joints and thinning skin while shielding the user totally from snapping, pulling, breaking, recoiling, and latex allergy. The easy BigBand exercises are performed by older adults to Swing music on an accompanying 30 minute DVD and shown on a large-print poster. The exercises target upper and lower body strength, balance, and flexibility. To increase motivation, all exercises are fun to do and are explained in terms of the daily activities they support.
BigBand hangs attractively on a chair or doorknob and is easy to use while watching television. Excerpts from the DVD can be seen at http://www.bigbandfitness.com . The BigBand Fitness system costs $42.95, with free shipping anywhere in the United States.
###