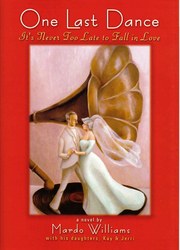 It's an important book. It shows older people as real people, not caricatures. The message is clear. Don't just sit in a corner and wait for life to happen, but go full speed at life.
Columbus, OH (PRWEB) September 22, 2009
The Ohioana Library Association announced that Kay Williams and Jerri Williams Lawrence will be awarded its 2009 citation for "unique and outstanding accomplishment in the field of writing and editing." The award is for finishing One Last Dance: It's Never Too Late to Fall in Love, a novel penned by their late father, Mardo Williams, when he was in his nineties. The sisters will be honored on October 17 in the Ohioana Award ceremony to be held in the Atrium of the Ohio State House in Columbus.
One Last Dance is a story about finding love at any age. Morgan, 89, and Dixie, 79, move in together for economic reasons. Soon their business-only relationship deepens as they face scandal, illness, and a near-fatal accident. One Last Dance is also about human frailty. Dixie fears intimacy and Morgan hides details about his divorce, estranged children and lost job. When a grandson Morgan never knew reappears, he is forced to deal with his troubled past, which brings Dixie and Morgan closer together and closer to their fractured families.
Jim Cox, Midwest Book Review, had this to say: "A sweepingly elegant romance, One Last Dance celebrates the importance of living in the moment and never giving up in the search for love. Emotion and hope surge from the pages, in this novel that leaves the reader feeling invigorated and enthusiastic about life."
Over the years, the Ohioana Library Association has presented more than 700 awards to some of the most talented artists, writers, and musicians associated with the state of Ohio, including James Thurber, Kay Boyle, Ian Frazier, Toni Morrison, and Elizabeth George. Kay and Jerri say they are thrilled that One Last Dance is being recognized in this way. Jerri said, "It's an important book. It shows older people as real people, not caricatures. The message is clear. Don't just sit in a corner and wait for life to happen, but go full speed at life." Kay added, "Exactly what Dad did. He was still writing it right up to the day he died at age 95."
Mardo Williams, a former business columnist for the Columbus Dispatch, died in 2001, leaving behind a first draft. He'd worked on it for four years, much of it in and out of hospital stays. Blind from macular degeneration, he was forced to dictate the last chapters. Honoring their father's wishes, his daughters, Kay and Jerri, began the often painful undertaking of finishing the work. "We walked a tightrope, doing what we had to do while trying to keep Dad's wonderful sense of humor," Kay observed. One Last Dance was published in 2005 and went on to win a Best Regional Fiction Award from the Independent Publisher Association and was a Finalist in the National Readers' Choice Award.
Mardo Williams is also the author of Maude (1883-1993), a biography/memoir about his mother who lived to be 110, and a children's book, Great-Grandpa Fussy and the Little Puckerdoodles. In 2001, he received the first posthumous Ohioana Award for his body of work as journalist and author.
Kay Williams is a professional actress who has played leading roles at theaters around the U.S. She has acted in radio, television, and films, and she has worked behind-the-scenes as an assistant producer with an award-winning independent filmmaker in New York. Recently, she co-authored the suspense novel Butcher of Dreams with Eileen Wyman and is working on a sequel about filmmakers competing at the Leningrad Documentary Festival against the chaotic backdrop of a disintegrating Russia. Kay, a New York City resident, is a graduate of Western College in Oxford, Ohio and Ohio State University.
Jerri Williams Lawrence is a writer and has edited manuscripts in many genres, both fiction and non-fiction. She currently tutors high school and college students in composition. She is adapting One Last Dance into a screenplay. A teacher of high school honors students in literature and composition, she was actively involved in curriculum development for gifted students. Jerri, who lives in Westerville, Ohio, taught at Worthington High School for over 30 years. She has her bachelor's and master's degrees from Ohio State University.
In conjunction with the novel, Jerri and Kay have developed a multimedia program, Keep Dancing!, which focuses on their father's philosophy of living life to its fullest no matter what one's age. They have toured over 75 libraries, retirement centers, social and civic organizations, and book discussion groups with the show.
For more information on the book and the authors, please visit the Calliope Press website.
###