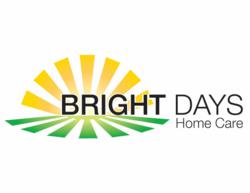 "Our website is a portal to getting to know the Bright Days Home Care family. We stand for honesty, integrity and compassion."
New York City, NY (PRWEB) September 09, 2011
Bright Days Home Care makes a splash as a trusted provider of in-home senior care in New York City, establishing an online presence with a new website and logo, underscoring the company's commitment to being at the forefront of the companion care industry.
Bright Days Home Care, a new player in the non-medical, in-home senior care industry, is excited to announce the launch of its new website. The aesthetics and functionality, along with the recently branded logo, are representative of the company's desire to provide compassionate, quality care, and becoming like a trusted member of the family.
"The launch of Brightdayshomecare.com is just the beginning. We are planning to expand the website in the coming months to make it more interactive, fostering a community. We are excited about the upcoming blog," said Nadir Wright, president of Bright Days Home Care. "Our website is a portal to getting to know the Bright Days Home Care family. We stand for honesty, integrity and compassion."
In launching the new website, Bright Days Home Care hopes that its brand and reputation as trust-worthy will resonate with the public, and prospective clients. The new website bolsters the company's efforts in becoming an integral part of the communities in which it serves across New York City. The company is on the way to becoming a leader in the home care industry.
To learn more about the new website, Bright Days Home Care the company and the services they provide, please visit http://www.brightdayshomecare.com. People can also call 1-855-407-1555 to speak to a member of the team.
About Bright Days Home Care
Bright Days Home Care is the premier non-medical home care agency in New York City and surrounding areas, providing a wide range of in-home care services. Bright Days Home Care is a locally-owned and operated company and is passionate about serving seniors and those in need throughout the New York City area.
As a member of The Senior's Choice, the nation's largest network of independent private duty companies, our mission is to ensure a better quality of life for our elderly clients and their families by providing dependable and affordable care. We are passionate about our home care services and offer a personal touch that enriches the lives of those for whom we care.
Our caregivers share our passion for improving the lives of seniors. We provide them with training and carefully pair them with the right client based on his or her needs. We offer a no-obligation opportunity to assess your needs and discover how we can significantly improve your life and the life of your loved one. For more information, or to request a free assessment meeting, simply contact us at (855) 407-1555 or info(at)brightdayshomecare(dot)com
###