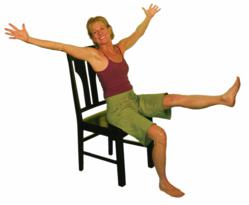 Having a brain tumor causing significant functional and speech deficits, after my first class, I was able, for the first time since my diagnosis, to "feel normal again" while doing chair yoga
(PRWEB) October 17, 2012
Lakshmi Voelker Chair Yoga for disabled and senior fitness is now being offered to patients as an adjunct to the more traditional physical and occupational therapies that they receive at the Oncology and Neurology units of the Spaulding Hospital for Continuing Medical Care in Cambridge, MA.
Monica Arrigo, PT, DPT, MS, LVCYT and Cliff Smith, PT, DPT, LVCYT currently instruct these chair yoga classes for patients who have complex medical needs, as well as significant functional limitations. Most of the participants require assistance to perform basic mobility, such as standing up.
The chair yoga classes are held twice weekly and are attended by anywhere from 4 to 12 patients. Family members often join in as well, enjoying the benefits of yoga while supporting their loved-ones.
Drs. Arrigo and Smith became certified in Lakshmi Voelker Chair Yoga at the Kripalu Center for Yoga and Health in Lenox, MA in May, 2012. Lakshmi Voelker's teacher training helped Monica and Cliff gain invaluable knowledge and confidence, strengthening their vision of bringing the benefits of yoga to their patients.
Monica was delighted to discover that Kripalu offers the Lakshmi Voelker Chair Yoga Teacher Training course and she asked Cliff to join her, given his experience and interest in yoga. The hospital supported their efforts by sending them both to the training course to develop a chair yoga program for the patients. They began teaching classes at the hospital that June.
Monica and Cliff's confidence in their plan was bolstered by early feedback from patients. For example, a participant with a brain tumor causing significant functional and speech deficits who attended their first class was able to communicate that, for the first time since his diagnosis, he "felt normal again" while doing chair yoga.
Other patients participating in chair yoga classes have given similar feedback. "Combined with physical therapy and occupation therapy, the yoga really helped to make me feel stronger and my movement was better," said another patient with brain cancer.
Many other patients surveyed have reported that Lakshmi Voelker Chair Yoga classes at Spaulding Cambridge were "relaxing and calming to the body," while other patients reported feeling "a very good outlook on life." One patient with a recent leg amputation told Cliff "The class helps me to not focus on my problems."
Monica has been a physical therapist for 10 years, working in inpatient hospital and rehabilitation settings. She now primarily focuses her work in the oncology setting at Spaulding Cambridge. Monica began practicing yoga 4 years ago and recently envisioned bringing yoga to her patients.
Cliff Smith began as a physical therapy intern at Spaulding Hospital Cambridge in 2010 and was hired as a full-time therapist after completing his studies in physical therapy. Prior to entering graduate school to become a physical therapist, Cliff was a massage therapist and a flight attendant. Cliff was introduced to yoga in the early 1990s and has enjoyed the benefits of his yoga practice for many years.
Lakshmi Voelker, E-RYT 500, YA, IAYT, has over 40 years in the fitness industry. She created Lakshmi Voelker Chair Yoga in 1982. Creator of the DVD Get Fit Where You Sit and the CD Lakshmi Voelker Chair Yoga, she has certified more than 700 teachers nationally and internationally, including health-care professionals at the Mayo Clinic and the New York City Department of Education. She does live certifications all around the United States. She also offers Online Teacher Training over Skype. For more information on all her certification programs, click here.
http://www.getfitwhereyousit.com